Young musicians to form new union •PMAN not worried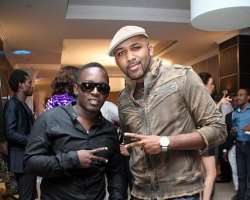 Adamant on their decision to effect a generational shift in the PMAN, the new generation of Nigerian musicians have drawn the line, following their humiliation in Osun State penultimate Tuesday.
Tony Okoroji's 12 disciples have reacted to last week's publication that they were humiliated in Osogbo at PMAN's convention, where Admiral Dele Abiodun was returned as the music body's national president for a second term of two years.
In a release to R signed by Banky W, the group of young acts eager to take over control of PMAN described the body as it constituted now as a disgrace to the legacy those that came before them.
Nigerian Musicians are achieving worldwide success in leaps and bounds, yet today's union shows that absolutely none of the significant musicians representing Nigeria are involved in the running of PMAN.
It was the desire to effect a change in PMAN that Eldee and others attempted to rejoin PMAN en masse, and that information reached them that the organization was as frustrated as we the artistes were about the state of things.
"We all came up with a team of executives amongst ourselves that represented a cross section of Nigerian musicians today. We went there to appeal to the powers that be at PMAN to vote for, put in a new team of leaders and give us a chance at resuscitating a failed union.
One would think that PMAN officials and delegates would accept our appeal coming from its musicians but this was not to be. We came with respect on our minds, appealing to those that had been in the rundown system for years, to let us help rebuild it.
We were met with resistance, bitterness, slander and ignorance. That is inconsequential to us. However, Dele Abiodun would not be dragged into the issue. ''Nigeria's constitution allows citizens to freely associates, there is nothing wrong with our young generation of musicians' plans to form a body.
Labour act, however, does not allow for duplication of parent bodies. That's why there can never be another PMAN. But there can be sister bodies like CMAN, GOMAN, FUMAN, JUMAN, etc. We shall welcome them anyhow