Toun Oni was my mentor– Lekan Oropo .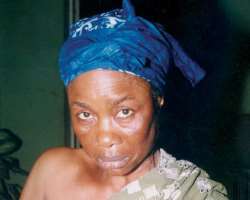 Lekan Oropo is an actor, dancer and script writer and he has been involved in the industry since the late eighties. He was mentored by the late Toun Oni whom he describes as his mother in the Arts. In this interview with BUKOLA BAKARE, the member of the Nigerian Guild of Dancers recalls how he followed his passion in spite of all odds. He also commented about the strengths and weaknesses of the industry and how government can turn the sector into a cash cow for the nation. Excerpts.
You seem to be very choosy about the roles you play in movies. Why is that?
It's not as if I am very choosy. It is just that I am more of a production person than just an actor, so I am always in the background. I do a lot of things. I write scripts and at times, I am a director. I also assist some other directors in a movie. I work mainly these days at the back of the camera. I equally act well and this is simply because I have the flair for all aspects of entertainment so, I'm not that stereotyped to acting alone. I'm also a director, a continuity person, a dancer. I choreograph well, so I keep moving from one place to another.
How would you describe yourself?
Lekan Oropo is a young man. I was born and bred in Lagos to a family of nine and I happen to be the last born. I'm from Ogun State, Ijebu Ode precisely. I've been privileged to pass through many schools. From my secondary school, Saint Finbarr's College, I obtained a Diploma in Music and passed through an acting school, Odunfa School of Theatre Arts back then and spent about four years. I later moved to a dance school, Ivory Ambassadors, where I spent another four years and later became an Artistic Director. I passed through mentorship under Abbey Lanre Productions before I started directing.
It seems you equally have the flair for music. Why didn't you just become a musician instead of an actor?
I must say that I love music but entertainment generally has always been my life. I recall that it was the late Mrs Toun Oni who introduced me to the theatre world in 1988. She was like my mother in the Arts. From then, I have been involved in one stage performance or the other. I remember that I was double cast for a role in The King Must Dance Naked. After a while, I delved into music and I went to the studio and met with the likes of Nelson Brown and OJB Jezreel and we did something like a six-track album that was enjoying air play at that time but while I was looking for a marketer to market it, I came back into acting and that took me over from music.
What was your first movie break?
I was privileged to be on the set of one of Jide Kosoko's movies as a production crew member. The title of the movie is, Omolade. I also doubled as a sound man for a day on that particular movie.
Now that you juggle between acting and being a production person, how fulfilled are you?
One has to give thanks to God. There has been a tremendous improvement in the entertainment industry, especially in the Yoruba movie industry. Professionalism is getting better by the day. When you look back at where you were when you started and where you are right now, you'll see a very big difference. At times, when you love what you are doing and you are doing it fine, you come in contact with people who commend you and love what you are doing. The same goes for some scripts that I have written in the past.
Can you recall which script you wrote that really turned out to be a good movie?
I have written many scripts and lots of them came out as wonderful movies. These include Funke Akindele's Ekuro, Agbefo including the latest, Omo Ghetto.
What makes a script good?
First of all, the storyline has to be appropriate. I am of the belief that as Africans, we are totally different from the Western world that just entertains. We entertain and educate. We also portray and project our culture in a very good manner. A good script must have a storyline that is embedded with salient messages for the viewers; something they can take home and learn from. The movie must eventually be a turning point in some peoples' lives. A good script must also be suspense-filled and leave people at the edge of their seats. You must project a particular culture well in your story. For instance, if you are talking about the Ijaws, you have to travel down there to study them and have an in-depth knowledge about them. As a script writer, you can't just sit in Lagos. So, your projection must be right. The basic thing is: a good script must pass across a message which is what is lacking in most scripts today. You watch some movies and wonder who wrote the scripts.
You mentioned the late Toun Oni as one of your mentors in the industry. Do you have other people that you look up to in the industry?
There are other people. I remember growing up and always looking forward to the day I would meet the likes of the late Hubert Ogunde. In the end, I was privileged to meet him.
What year was that?
It was at the National Theatre and I had gone there to watch one of his films. That was when I met him. I remember the late Ade Love. I equally look up to the likes of Lere Paimo (Eda), Moses Olaiya (Baba Sala), Adebayo Salami (Oga Bello), Sunday Omobolanle (Aluwe), Yinka Quadri and Taiwo Hassan (Ogogo) You know, in those days, I used to say to myself that someday, I would be like them. I remember the first day that I walked up to Aluwe, that was as far back as 1985. I said: "Sir, I like what you are doing and I will like to be one of you." He said to me: "Go back to school". I said I would and would come back afterwards.
Did you eventually go back to meet him?
During that time, what we had was a moving theatre. I didn't go back to him but when I started with the late Toun Oni in the 90s, I met Oga Bello's wife who later introduced me to him and he said that they had a group not a troupe and he would advise me to go to Odunfa Caucus which I did. There, I met Yinka Quadri, Taiwo Hassan, Ajao Rasaq and Abbey Lanre and they admitted me to their school where I underwent a course and moved ahead.
How challenging is this business; acting, script writing and continuity. Do you sometimes feel like backing out?
No, I have never felt that way but I admit that sometimes, there are challenges. Sometimes, I feel like if I had stuck to my Banking and Finance, I would be well placed in a bank now. The money might not come at times but still, I'm fulfilled with what I do.
Have you released any movie from your stable into the market?
I did a movie some years back, en titled: Akeju. It was released under Olasco Films Production and I usually take my time before I do things. I have a series of scripts with me which I'm still working on and before the end of the year, I should be able to shoot another good movie.
How do you handle competition from your colleagues?
Naturally, competition gives birth to more creativity. If there's no competition, then there wouldn't be any need to put in your best in whatever you are doing. But, if there's competition from left and right, you will know that it's time to get more creative and put in all you've got. Basically, competition brings out the best in me. I don't see it as a challenge like most people do. It's an opportunity to look inwards and bring out more things inside of me.
Are you married?
That's a million dollar question (chuckles). Let's leave that and move to the next question.
Guess there's a special person somewhere then?
We'll talk about that some other day.
What's that one thing that people don't know about you?
I guess I'm just myself and for those who have known me for a while, I'm a simple, quiet and reserved person. I take my time to do whatever I want to do and strive to be the best in all that I do. I believe in perfection, I'm not a perfectionist but I just strive to be the best. I'm just an easy going person and I try to relate well to my fans because without them, I'm nobody.
What are your likes and dislikes?
I'm a disciplined person and basically I like someone who is God-fearing, someone who has respect for elders and culture. I equally like those who speak the truth and are straight forward, people who are independent because I am. I don't like people who lie or cheat, double deal. I dislike persons who are more of mediocres and lazy people; people who don't believe in the need to work. Most importantly, I don't like people who look down at the work that we are doing. I remember in those days at the Guild of Nigerian Dancers; of which I'm a member, somebody exclaimed that why should they pay such an exorbitant amount for dancing? It was a representative of a company. I said to the man: "Sir, can you remove your tie and jacket and let me take you through a dance exercise for an hour? If you know the kind of energy that goes into it, you will really appreciate that it's not an easy thing." So, I dislike people who don't appreciate others for what they do.
What was the re-action of your parents when you told them that you wanted to develop a career in entertainment?
I have always had a supportive mother, even though she has passed on now. Though there were one or two difficulties in the beginning, my mother advised that if that was what I wanted to do, I had to learn everything about it and make her proud. I remember her coming to the National Theatre in those days, there was a stage performance, Echoes From The Graveyard, by Steve James and Felix Emeruah who is now a lecturer at the University of Ilorin. She was in the hall and I was clad in a native attire. After the show, she walked up to me and gave me a hug. There was a woman next to her and she said: "I thought you were joking when you said he's actually your son."
It was an emotional moment and I was almost crying because she and some of my siblings actually believed in me that I could make a living out of entertainment. But for some others, they felt that it was a waste of time and they felt I should just undergo further studies and become a banker.
From what you have seen so far in the movie industry, what are the problems that you think need urgent attention?
I must say that we are growing and learning by the day. The Nigerian movie industry has come to stay and we've been able to prove to the rest of the world that we are good. Now, people compare us to Bollywood because we are selling. But in terms of quality production, we may not have been able to match the strength of Bollywood. But I believe that we are getting closer by the day because most of our directors have introduced innovations to aid their work. In the last two years, you will agree with me that the kinds of productions that are coming out are getting better by the day in terms of quality pictures, the kinds of stories we tell, more actors and actresses are committed to the job and if we continue this way, I'm sure, in some few years to come, the Nigerian Movie industry will be a force to reckon with in the world. However, the government should try and identify with us which is what our President, Dr. Goodluck Ebele Jonathan is doing now.
I'm sure you are aware that the government recently announced a $200 million grant for the entertainment industry?
I was just coming to that fact. It's a good thing that he is looking in that direction now, trying to help the industry.
Do you think that money would be put into judicious use because people are already agitating that nothing has been done since the President made the announcement. Do you think the money will be disbursed properly?
I have always been one of the few people who believe that if the government is willing to help the industry move forward, there is a lot of ways that they can help. Pumping money in is one of the ways but, there are some other things that must be put in place. We need a Film's Village in this country. If perhaps a committee is set up to disburse the grant announced by the President and some of them are not truthful to what they were called to do, the money might not be put into proper use but if the right people are put on board and it is not a politically inclined committee, things would be right. They should work out the modality for setting up a Film's Village where some of the latest equipments will be seen, rented and used. Part of the money should be used for this. Training should also be carried out within this village so that some of us who do not have the privilege of travelling out to learn more about the latest equipment and technology can go to this training centre and learn some of the new tricks to be used in the industry instead of looking for about $15,000 to travel abroad for a course, it could be done in naira and would be cheaper because it is on home soil. Once we have more and more educated and enlightened people in the industry, the sky will just be the beginning, not the limit.