THE GOODLUCK-SYLVA BAYELSA COMMECTION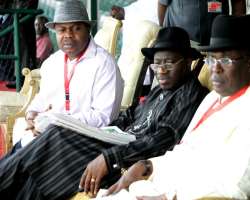 R-L: BAYELSA STATE GOVERNOR TIMIPRE SYLVA, PRESIDENT GOODLUCK EBELE JONATHAN AND DEPUTY GOVERNOR WERWIPRE SEIBARUGU DURING THE PDP STATE CONGRESS AT THE SAMSON SIASIA STADIUM IN BAYELSA STATE.
So much is yet to be understood about the abiding force drawing together president Goodluck Jonathan and Governor Timipre Sylva of Bayelsa state. Political watchers are intrigued by what appears to have become an enduring political relationship despite tumultuous political environment. The answer: they both shared the enduring Bayelsan dream. My encounter with both leaders indicates a deeper passion for development than publicly acknowledged today. It is this linkage that has always floated the two principal actors above divisive politics.
To understand how significant is this cleavage in explaining the behavior of both leaders on matters of national and state importance such as their decision to pull together on the issue of President Goodluck's bid for President one needs to go into some historic events adjudged from the perspective of this writer.
As early as 2005 this writer participated in the documentation efforts of proceedings of the Federal Government sub-committee on sustainable peace in The Niger Delta Region. Headed by the then Deputy Governor of Bayelsa State, then relatively unknown but meticulous academic, Dr Jonathan came into our consciousness when he rejected our then much considered preliminary research report as mediocre, insisting that we relocated from our cozy Port Harcourt Hotel to the less preferred capital city Yenagoa under his direct supervision. At Yenagoa he actually of took direct charge of Research and practically did the writing for us. We learnt a lot from him and at the end the novel strategy of 'community committees' came into the development lexicon as a sustainable means of organizing Niger Delta communities and youths for development.
When Governor Alamiesegha was removed, Dr Jonathan became governor in 1986, our consulting firm approached the government for another opportunity and despite his earlier displeasure with our work engaged us to co- organize and document proceedings during Bayelsa's first executive retreat to Calabar, Cross River State. At Calabar once again the new Governor exhibited his humility by participating in all sessions taking notes and asking questions. The Host Governor Mr. Donald Duke was so impressed that during his closing remark linked this uncommon character as an indicative of future greatness.
Only with benefit of hindsight could we begin to understand what the governor achieved with the retreat. It was a kind of dress rehearsal for the national stature the governor was growing into. It looked like a mini World Bank summit going by the caliber of resource person's present-experts and policy makers. He made it clear by his words and action that he wanted the best for Bayelsa State no matter where it came from and this attitude helped to open Bayelsa state as 'home for all' and an investment destination for all within his short one year stay. While he promoted national and international events in Bayelsa, he was often criticized for spending money on such big outward programmes such as the Yenagoa city Masterplan, and implementation as well as basic infrastructure but today we have the education of hindsight. When he was facing stiff opposition as vice President over declaration of assets, I reminded Nigerians of the greater National asset that is Goodluck Jonathan himself. As for his work in opening Bayelsa State to the World, It was only when oil revenues were sabotaged by rising militancy in 2009 that his vision of opening the state for investors sank down with his people long after he had left the State.
Now what about this linkage to Governor Timipre Sylva? It is jointly shared passion to develop the State, to create a conducive business and social environment for the people as legacy. The direct indicator can be gleaned from proceedings of his valedictory activities as Governor of the State. He stressed the need for unity of all Bayelsan's behind the goal of making her a tourist destination.
During his last extended Executive council meeting in Yenagoa, the then outgoing governor and President elect displayed his passion for implementation of the Yenagoa City Masterplan. He extracted a public commitment from the incoming Governor Timipre Sylva that they stood together in this regard. It represented his spiritual connection with Governor Sylva capable of outlasting any political misunderstanding. It is partly the reason for Governor Sylva's uncommon commitment to completion of old projects as well as his continuing strategic relevance for the re-election of the President.
A colleague of mine, having appraised the chequerred nature of Sylva's emergence and his battling tenure so far concluded that the man must be guided from above. In Nigerian politics many can claim divine guidance but those who know a little of the governor can tell you that this one is not exactly out of place. This was a man who told every body years before getting the opportunity to contest that he would be governor and he was so confident that he inscribed it in gift items. When rumors about the Governor flew around in Yenagoa last year, some of us with close connections laughed aloud. Ignorance was at play here. The governor is a highly religious and moral character. Perhaps the future will tell more.
In my last piece on Bayelsa "The political impact of Bayelsa's 2010 Budget" I appraised his masterful handling of the Deputy Governor case during his budget delivery ceremony. The two sat side by side perhaps for the last time until he was removed. With the numerous battles, the governor was also coming of age and finally taken charge of the political grassroots of the state having conducted local elections. In my column on Beacon newspapers," Why Sylva should return" in 2008,I stressed the need for continuity. I was widely attacked for this stand. Just when the opposition thought he would not return after the tribunal nullified the 2007 elections, he scored a resounding victory. When he was rumored to be against Jonathan's emergence, as President with the hospitalization of the former president Yar Adua, he emerged as chief advocate of the Goodluck Presidential ambition. He survived all and retained connection to this enduring dream of a great Bayelsa State.
Now there is a bid to make a Bayelsan occupy the seat of President of Nigeria for the next four years. It promises to further boost this cleavage rather than diminish it. It is probably time for Bayelsans to pay back through their votes by reelecting Governor Sylva and voting massively for the President irrespective of political affiliations.
Disclaimer:

"The views/contents expressed in this article are the sole responsibility of the author(s) and do not necessarily reflect those of The Nigerian Voice. The Nigerian Voice will not be responsible or liable for any inaccurate or incorrect statements contained in this article."
Articles by thewillnigeria.com