NEW POLITICAL ORDER FAVOURS ME -NWAOKOBIA JNR, LDPN PRESIDENTIAL CANDIDATE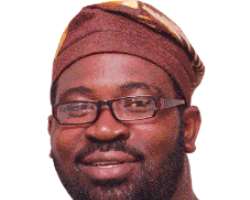 Who is Chris Nwaokobia Jnr?
I am a lawyer and a public affairs consultant. I am a new breed and fire brand political activist, who is interested in change.Whose passion is a new Nigeria and who seeks a new republic of our dreams, who is interested in ensuring that the society is moving and moving effectively. That, the society works and works effectively. And interestingly, that is why I am seeking the highest office of the President of the Federal Republic of Nigeria on the platform of the Liberal Democratic Party of Nigeria (LDPN).
Where are you coming from?
I started my political career when I was in the University of Nigeria, Nsukka (UNN), Enugu campus where I studied law. I was a Student Union leader. Interestingly, my government was effectively in charge of efforts for the school to be at peace. If you go into record, you discover that before I got to the university, for 20 years, UNN, Enugu campus had never had a protest for the welfare of the students. In 1989/90, when I got to the university, I led a protest asking for better life for the students for water, for clean environment.
It was interesting to discover that the mentality in Nigeria is that unless there is a protest for welfare, nobody would be interested in that. It was a surprise that before the protest elapsed, we got back to the university to discover that there was water, there was clean environment. We got to school to find out that everything we were fighting for on the street of Enugu was provided. And that was a great surprise for me.
What is your chance against the old order
Essentially, in leadership or in governance, what is fundamental for the progress of the society is pro-active leadership. Each time I hear Nigerians say, charity begins at home, that people have to do what is right from their various homes, I laugh. You cannot expect a child to be disciplined, if the parents are not. Ordinarily, what we need in this country is leadership to show the way. Through out the world, it is the leadership that shows the way. If the leadership is progressive, proactive, responsible and responsive, Nigeria would work. But we have failed. We have had a few instances of progressive leadership in this country and we know what Nigerians said about it.
The truth is that, in the new republic and new dispensation that we epitomised and that we intend to establish in this country, we will have responsible attitude to governance, responsive approach to the demand for the dividends of democracy. We are going to ensure that our people, our children, our brothers and sisters have access to quality and quantitative education, we will ensure that not only the energy sector, we will explore all other alternative power generation on our part unlike what the Jonathan Presidency is talking about.
Jonathan Presidency is only interested in selling our PHCN and other products to his friends and apparatus. What we are saying is that in the 21st century, no country, no government leaves totally the business in the hands of private institutions. If you look at the United State of America, everything today is, if you like, subsidised, by the government. Even in Italy, Russia and others, government sees to the running of day to day of business of their nations. There is no purely capitalist economy and there is no truly communist economy. There are all inter woven. What affects government directly affects the people indirectly.
So, what we are saying is that the time has come for the government to be responsible to the people. When I become the President of the Federal Republic of Nigeria on May 29, this year, we will ensure that government is interested in everything in the life of the masses of our people.
We will ensure that, not only are we going to revamp energy sector by exploring and exploiting alternative sources of power which include waste, wind, coal and solar, we will ensure that we revamp the transmission, we will ensure that we enter into joint venture with energy producing companies around the world. In South Africa we have people who exploit wind, in Brazil we have people who exploit waste, there are people who look at solar. And we are saying if we can exploit all these alternative sources of energy, Nigeria will have nothing to do with darkness.
What gives you confidence that you can fit into the prevailing political system?
My confidence is fundamentally rooted in the restructuring that is obtained in this country. There is a structure that is becoming emboldened by the decision of the government. It is 'us' and the 'them' structure. But Nigerians have come to realise that political class stands aloof, never caring about them.
Remember that the Governor of the Central Bank of Nigeria (CBN), Mallam Sanusu Lamido Sanusi came up with an alarm that this National Assembly is cheating us.
He said 25% of our budget goes to the National Assembly. About 50% of our budget goes to recurrent expenditure. That is about 75%. And only 25% of our budget is spent on the about 98% of the Nigeria people, for roads, for infrastructure, and that is tragedy of governance. This position of 'us' and 'them' is the first structure that we are capitalising upon through a message of hope we are telling Nigeria that we will return this country to the post independent period where our lawmakers were nothing but mere part time legislators who were paid for what they did.
We have a message to Nigeria that we are going to detonate, that this sweeping hammattan will catch up with every Nigerian, who is patriotic about good governance.
And let me tell you the truth, I am not interested in how politics is played by big parties because these so called big parties have moral questions hanging on them. The PDP is in crisis, and again go through the protests and criticism that attended the ACN conventions, where individuals were hand picked and imposed on the party, you will find out that Nigerians are saying this is not the type of politics they want.
So, I am not in congruent with such politics. I am saying the time has come for a new political culture, the time has come for a new paradigm. That is what I epitomise. That is what I represent.
How can you achieve success with your party that is seen to be unpopular?
Actually, the party that is most popular in this country today is the party against hunger. The party against poverty. The party against disease. The party against despodency. The party against injustice and frustration. That is the party that is most popular. My party resonate along that line.
Nigerians see the big parties as a gang of politicians who are interested in just themselves and their families.
So the truth is that politics that is about to unfold or that is unfolding is the sing song that Nigerians are in need of liberation, they are in need of health, they are in need of wealth, they are in need of comfort. They are in need of electricity. Then the true party that is popular is that party that is saying bye to hunger, poverty, disease and that is what my party represents.
In actual fact, from the darkest recess of Sokoto to the dry sand of Maiduguri, to cocoa base of Abeokuta, confluence of Lokoja, down to the coal field of Enugu and the oil field of the South-South, something resonate-the call for liberty. The call for freedom, the call for wealth, the call for joy, the call for employment. That is what resonates. And that is what my party represents.
In actual fact, if you talk to Nigerian people, there is one message that we hold out, and that is message of hope. And it is only my candidature that has hit the cord with Nigerian women, Nigerian youth, Nigerian students and Nigerian populace. Those who hitherto have not voted are already registering for their voters' cards. They are stepping out to register because of message of hope I bring.
Incumbency factor
Historically, there is no nation in the world that at the dawn of their jubilee has seen the continuation of the same old order. Read Jerry Rawlings story in Ghana, as popular as he was, at the dawn of the 50th anniversary of Ghana, Kuffor defeated his party at the polls. Look at what happened in Madagasca, at the 50th independence anniversary of that country, a Disc Jockey (DJ), a drop out from the high school, Jurina became the President of Madagasca.
Look at what is happening in the Guinea, at the 50th anniversary of Guinea, the opposition won the election. Look at Gambia, 50th year of Gambia, opposition won an election. Over the world, there is a wind of change. It was just about 50 years between John F. Kennedy, the youngest and the first Roman Catholic to become President of the USA and the first black African American, Barack Obama, to become the President of America.
So, tied to our race is not only historical imperative, it is psycho-socio ecsoterical imperative. We are saying that God has brought back liberty to the masse of our people by saying that God is interested in how governance should work in this country. And that is why my candidacy is predicated on a divine orchestrated grace.
Besides, we have the best blue print for energy, for power, for education, for health sector and creation of employment. We are saying that from my presidency, Nigeria will no longer be where we are right now.
In a nutshell, I will win the coming election, power of incumbency or not.