NOTHING CAN STOP MY CAMPAIGN -AKALA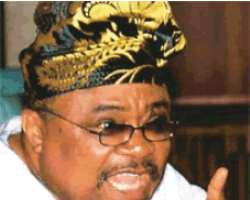 Governor Adebayo Alao-Akala of Oyo State yesterday declared that he was not moved by the recent political development in which it was reported that he has been disqualified from contesting the April general elections.
The governor boased that his candidature was intact and that he would go ahead with his campaign as planned.
He also dismissed the court injunction secured by the coalition forces against his second term ambition, restraining Independent National Electoral Commission (INEC) from accepting his candidature as the flag bearer of the Peoples Democratic Party (PDP) in the state for the April 2, election.
To him, such political developments were expected especially at this critical level of the nation's democracy, saying; 'any serious minded politicians will not be moved by such things.' He said: 'This is a critical political period and what is unfolding in Abuja are not unexpected. As politicians, we are aware that such things must happen and we are not moved.
'As far as I know, the list of candidates from the state for the various positions for the April poll has been accepted and we are moving forward with our programmes as planned. There had been media reports that the list of Oyo PDP candidates for the April 2011 election was rejected by INEC but the governor while speaking with journalists shortly after swearing in 14 new permanent secretaries into the state civil service maintained that the media reports was not unexpected.
On the court injunction restraining INEC from accepting me as the governorship candidate of the party, the governor asked 'have you seen the injunction yourself, have you seen it?
'You see, when things are happening like this, you have lots of competitions, this is the best time for lawyers to eat and they have plenty opportunity to make cool money from politicians.' He pointed out that he had tried to reach out to the aggrieved elders of the party on the need to join hands with him in ensuring the victory in the April election.
He described Senate Leader, Teslim Folarin, as a senior member of the party who was ready to join the campaign train of the party even without being wooed. 'We are not looking down on anybody as we need everybody in the task ahead for the party. We have reached out to many of our aggrieved leaders. There should be no problem at all as we have extended olive branch to all in the spirit of moving the party forward.'
Earlier, while performing the swearing in ceremony for the 14 newly appointed permanent secretaries, Akala asked them to be prepared for the task ahead. 'You are expected to be role models and provide exemplary leadership for the staff under your supervision through punctuality, loyalty to the government, honesty, transparency and dedication to duty,' he noted.