OUR TARGET IS THE TIME-STARVED BUSINESS AND POLITICAL ELITE-TED IWERE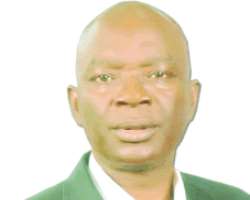 Mr Ted Iwere is the Publisher of Best of Business, a new online business news media. An entrepreneur par excellence, Mr Iwere's sojourn into the world of business news reporting is legendry.
In fact, he pioneered the publication of business magazine in Nigeria with the highly authoritative Business Magazine. He was the founding Managing Director of Daily Independent newspaper. Today, Mr Iwere is on the road again, with Best of Business, an online site based on the model of news segregation, blogs and original reporting.
Best of Business is a one stop site for all the news from Nigeria and from around the world with concentration on business and political news. The site offers a daily summary of Nigerian and world news, in headlines, with links to their original sources. It concentrates on business and political news, for the attention and use of business and political elite for whom time is a prime source.
According to Mr Iwere, who spoke to Daily Sun about the website, Best of Business presents short and sharp outlines of the news of the moment, using headlines and links to their original sources. It blends these with its original reporting, and commentary.
The target readership is the time-starved business and political elite.
How long have you been on this?
Its taking about a year in coming because the first challenge is to crystallize the concept, then develop the site and I have flickered with all kinds of models until I finally came up with this. So it's taking a long time in coming, but finally we are here and ready to run.
You have just explained what you are doing. So who are you targeting at?
We are targeting the business and political elite. The business elite, the political class, are our primary target. Because these people are interested in business and political news, of course, we know that politics drive business and the economy and also these people are very busy, they don't have plenty of time to read. They don't have time to read all the news, but once they get to this site they can have all the summary of the day's news in a very short period of time. So it's like we asking them to give us 30 minus and we give them the news, all the news they need and all the news they can use.
What type of news are we talking about specifically, what type of information are you talking about.
An investor will look at this site and see what he wants. When you look at this site you get all the business news you are looking at. All the sectors, oil and gas, money, capital market, the institutions, public finance, infrastructure, market, earnings, cooperate finance, real estates, creative world, small business. We cover the full range, the business terrain.
How will someone access this site?
You access this site by clicking on www.bestofbusinessonline.biz.
Why are you now going online?
You know my first effort at private enterprise was Business Magazine. It started and ran for a very long time. That used to be my area of strength, business publishing. And of course, you know after I left business publishing, I went to Daily Independent newspaper which I ran for many years before I moved on. And so in trying to do something different I considered two things. One - where is my strength? Two- what can I do that is new, giving our environment?
So these were the primary consideration that ran through my mind. Yes I have a very strong bias for business reporting, I am interested in the world of business. I am interested in those who move and shape business and the workings of business. So to that extent I have that substance, I have a flare for reporting business. Then also I wanted to move away from print, I wanted to do something online because as we speak, I don't think there is any product like this in Nigeria.
What we have now are newspapers that have print editions and also have a complimentary online edition. Which basically is like a replication of the print edition. But what we have here is a product that is just primarily online, its digital and there's no print equivalent and again my model is unique in the sense that the core of the content is abbreviated news in the sense that it's a gathering of the best news items from all sources, both print, electronic, both local and international, all selected by interest, subject and category.
Do you intend to make money from this?
Of course, it is not for charity, I intend to make money from it. The basic business model for this is similar to that of the newspaper in the sense that we also make money from advertising as you can see in the site, we already have some adverts. And we intend to get more. What we are trying to do is, just like the newspaper beats circulation, the website beats traffic. And once you beat traffic, then you market the traffic to a target audience.
And you leverage that on advert marketing. So we intend to make money from advert but of course, advert is just one revenue string from a product like this. With this website you can sell digital products, you can sell special report, you can publish sponsored features. Multiplicity of revenue strings you can drag this platform on.
I know that the problem of online publication is that it reaches everybody out there. Are you intending to restrict it in future. Like you have to pay before you can gain access, because that's what the newspaper publishers are complaining about now.
Well, it depends on the model you want to adopt. As we speak, there are newspapers that have a two-step approach to presentation of their contents to the digital audience. If you take a paper like the Wall Street Journal, they have a two-step flow. There are some content you can't check without charge and there are some contents you can check by paying a subscription. So you can do it two ways.
Now we can decide to make it free for all or we can also decide to charge money but, of course, you know that one or two newspapers in Nigeria have tried to charge money online but it didn't work and basically why it didn't work was that, what they were trying to charge money for, people could get it for free from other sources.
That kind of thing cannot work. But if you have a premium content that cannot be gotten from other sources then you can charge money for it. It depends on how you want to model it. For me what I am doing now, am not charging money, its free access because am building traffic. But as we grow down the line, if we begin to develop premium content, that will not be available to every other person, then we begin to think of charging money for that content but invariably it will be based on free access because we want to build traffic.
Talking about building traffic
To build traffic is like a new product you have to publicize. It is like the interview I am having now. I want people to know about it and I want the people to know that the site is there, visit the site. You will see this and that kind of content. Once people begin to visit the site, then traffic will be going and it will be influential.
It's just like any other product, you publicize it, you market it just like any normal product. You are trying to bring people to be aware of because if people are not aware of it, they won't go to the website and if they don't go to the site, you won't get traffic. So you use the normal advertising and publicity and marketing and sales techniques to generate interest and attract attention to the site, so that people can visit the site and it is people visiting the site that can make your traffic.
I see that you are linking to some other publications around the world. Are you doing it with their permission, did you pay them or is there some arrangement?
You cannot see their contents on my site, it's just a link. In fact, am helping them in the sense that I am sending traffic to their sites. So the question of payment does not really arise because am not invading their copyright, I am not putting their content on my site. I mean on the web, it's a world wide web. Its free access basically, so what am doing is sending people to their sites. If am putting their contents on my site, then that issue can arise but am not putting their content on my site. In fact, am helping to generate traffic to their sites.
You said you intend getting your own news stories and putting there. How do you intend doing that, do you intend getting your own reporters to do that?
Sure! We will get our own reporters who will be generating stories for us, do our own original reporting, we function like a normal newspaper. But of course, the basic model is news segregation. So original reporting will be supplementary.
What we are trying to provide, our unique selling point is for people to come to our site and get a broad general overview of the news of the day. Without having to go to multiple sites, that's our primary unique selling point. But we want to add to that, that beside that, we want to get something that is original to us, which is why we will be going into original reporting.
What is giving you the confidence that you are going to succeed, with a low literacy level in Nigeria and the poor penetration of the internet?
Well, the confidence comes from the point that this is a pioneering effort. Nobody has done that kind of model before. But looking at the environment, what I see are good signs in the sense that one there is a growing level of internet penetration in Nigeria.
If you look at the internet penetration on the continent, Nigeria has a presence on the internet. It's a growing thing and it will continue to grow. Right now it may be slow in coming but we are ahead on the course. It's like we are paving the way. It is a pioneering effort and I think it will grow as we grow. So I am very confidence that Nigerians will come to this site and look for news on.
What message are you giving to Nigerians who are to go through this site?
The basic message is if you want to catch up on the news of the day, especially on business and politics and you don't have plenty of time to read through all the multiplicity of news sources, just come get a broad general summary of the news of the day on this site. Visit www.bestofbusinessonline.biz and you will get a rundown of the day's important news, news that you can use, news that you need with minimum effort and minimum time.