African Fabrics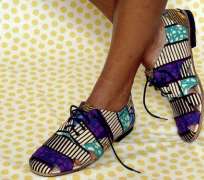 Did you know we have different countries in Africa that produce different fabrics,everyone has it own specialty,we have African Printed Fabrics like (Super Prints, Kanga which is from Tanaznia, Kitenge From Lagos Nigeria, Leso, Capalona, Java Prints, Paharias & other varieties of Wax Prints)
Now check this out:When it comes to footwear the bright, bold, and beautiful--and sustainable design, of course! New York-based Osborn Design, makers of fair trade shoes made in Guatamala from African Kente cloth, recycled clothing, and handwoven Guatemalan fabrics, has collaborated with fashion label Boxing Kitten, known for their use of vibrant African wax block print fabrics, on a limited-edition shoe for summer--sure to brighten up your Legs.

Now here in Uganda we have our fabrics too,our designers Santa Anzo she uses excellent Fabrics and she has a great collection to die for..the benefit of African Fabrics is that we do have different categories..and they are those at a high price and those at a relatively reasonable price.
This was is of Santa Anzo collection 2011..l liked it ,its abit faint she hasn't yet out fully launched but its beautiful. So here are two of my Favourate designs...Its An african Wax print Dress its so beautiful.

This was designed by Santa Azo...,so what your favorite African peace...