Violence is threat to democracy, says Atiku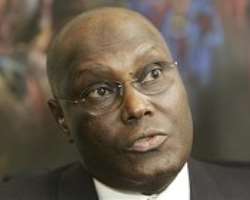 Abubakar Atiku
Former Vice President Atiku Abubakar has called on Nigerians to shun violence in any form as a means of redressing perceived grievances.
Reacting to the current spate of violence, political assassinations and ethnic/religious conflicts in some parts of the country, the former Vice President said no nation can achieve development and stability under the atmosphere of intolerance and frequent resort to violence to settle scores.
According to him, Nigerians should avoid tendencies that could undermine the foundation of the country's hard won unity, adding that no sensible person should take stability for granted.
He argued that economic development, political stability and social order cannot be achieved when violence becomes an easy tool for resolving misunderstandings.
On religious intolerance, he maintained that neither Islam nor Christianity preaches violence because both faiths place high premium on the sanctity of life.
The former Vice President said it is not enough to preach peace when members of the two great religions are reluctant to practise its precepts on the value of life.
"I have said it before and I need to say it again that since as human beings we are incapable of creating life, nobody under any circumstance should take human life," Atiku said.
 
He, however, appealed to religious and political leaders to demonstrate high sense of patriotism and responsibility by avoiding the tendency of inciting their followers against one another for selfish reasons.
On the worsening state of insecurity in the country, Atiku called on security agencies to be more vigilant and proactive through better intelligence.
Calling on Nigerians to help the security agencies with relevant information, the former Vice President said that as long as previous killings and assassinations remain unresolved, the perpetrators of these wicked acts will be emboldened to unleash more mayhem on innocent people.