SCIENTISTS MAKE SOLAR CELLS WITH CHEAP METAL OXIDE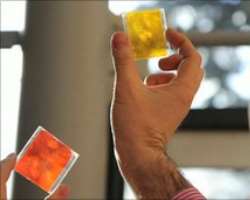 The solar cells made using dye could be used to produce stained glass windows
University of Oxford scientists have discovered a way to make solar cells from a metal oxide found in toothpaste.
A team led by Dr Henry Snaith at the physics department combined the oxide with a thin dye printed on to glass to turn the sun's energy into electricity.
The glass can be produced in a range of different transparent colours for use in windows and cladding buildings.
"It opens up a lot of versatility and a lot of possibilities for building design," said Dr Snaith.
Because the manufacturing process uses abundant, non-toxic materials the carbon footprint is considerably smaller than rival technologies.
Ollie Bennett, from MiPower, a company that specialises in installing solar panels, said he had not seen anything like the new cells on the market.
"I think this is a really good idea and it could be a forerunner," he said.
Dr Snaith said the team had still had some work to do on improving its efficiency.
"But coupled with our extremely low cost of manufacture and processing and the ongoing research effort to improve the overall performance of the device, we think it's only a short while till our performance will be competitive," he said.