AMCON Delays N1.5T Bond Issue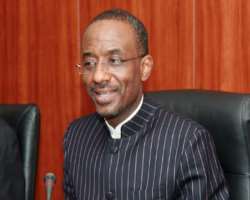 CBN GOVERNOR LAMIDO SANUSI.
Nigeria's state asset management company said on Monday it was delaying by a month the issue of 1.5 trillion naira ($10 bln) in tradeable bonds but said it was still on track to absorb all bad bank loans on time.
The Asset Management Corporation of Nigeria (AMCON) was set up last year to absorb bad banks loans and exchange them for government bonds in order to rebuild lenders' balance sheets after a $4 billion bailout in 2009.
AMCON had planned to replace 1.03 trillion naira worth of consideration bonds issued to 21 lenders in December with fully tradeable bonds by Jan. 31, but Chief Executive Mustapha Chike-Obi said the process was taking longer than expected.
"We have had to delay the bond issue because there are a lot of procedural issues. We are seeking some waivers from the ministry of finance... so we have pushed it back to Feb. 28," he told Reuters in a telephone interview.
But he said AMCON's timetable -- absorbing bad loans by the end of March and resolving the banking crisis by the end of June -- was still on track.
AMCON was seeking finance ministry and Debt Management Office waivers to enable it to issue tradeable bonds as a new company and was also seeking an exemption from Securities and Exchange Commission (SEC) registration fees, Chike-Obi said.
He said AMCON still planned to issue an extra 500 billion naira to soak up remaining non-performing loans from other lenders when retiring the consideration bonds in February, as originally announced.
AMCON issued three-year zero coupon consideration bonds to the 21 lenders in December in exchange for non-performing loans, of which margin loans were 40 percent of the total.
"This will create some delays but we will catch up with other things that we need to do. We are trying to make sure that we meet the deadline by the end of the second quarter to resolve all the banking issues," Chike-Obi said.