ACN AND PDP PRESIDENTIAL CANDIDATES AND HOW THEY EMERGED FROM RIGGED PRIMARIES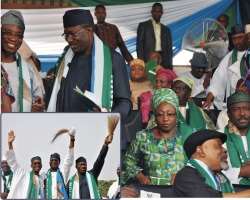 A FILE PHOTO FROM THE ACN PRESIDENTIAL PRIMARY IN LAGOS.
The political party primaries that selected candidates in all major parties in Nigeria have come and gone but the protest and bitterness are not yet over, while there are few litigations in the Court of law. The former Vice-president Atiku is yet to officially congratulate Dr. Goodluck Jonathan after the Eagle Square drama and Mr. Attahiru Bafarawa of the ACN has gone underground apparently over the bitterness of his forced withdrawal from the party presidential primary of the ACN in Lagos. It is important to re-appraise what transpired in some of the major political parties in Nigeria to enable all pro-democracy organizations to understand the fact that there are still much work to do. It is needles bothering ourselves over General Buhari's Congress of Progressive Change, CPC, because the party belongs to him just like other "pressure group" parties like NCP, Labour and Social Democratic Mega parties e.t.c.
Nevertheless, PDP is the ruling party and the ACN happens to be the only major opposition party in Nigeria for now in view of the strategic states under the party's control. It is no doubt, that whatever that happens in both political parties will definitely create the impression of how far we have gone in deepening our democratic institutions since Nigeria returned to the civil rule in 1999. As a patriot, I am highly optimistic that our democracy will survive and we can only improve provided we are able to talk about our problems and learn from our past mistakes in order to perform better in the future.
Perhaps, most people may not know the truth that these two political parties that were supposed to be the role model for other political parties in Africa by the way of their conduct of the last primary elections lacked transparency and internal democracy. For both parties, it was a "do or die" affair with all aspirants using all available ungodly means to achieve their aims. Without bias, a deep look into the primaries that produced President Goodluck Jonathan of the Peoples Democratic Party, PDP at eagles square in Abuja, and that of the Action Congress of Nigeria that imposed Mallam Nuhu Ribadu through the fraudulent acclamation at the Onikan Stadium in Lagos clearly fell short of expectations.
While Dr. Jonathan used all the machinery of the state including intimidation, monetary inducement, political propaganda and arbitrary use of the instrument of coercion to win the ticket of his party, Mallam Nuhu Ribadu used the same fraudulent style and had the party ticket awarded to him by his "god father" Asiwaju Bola Tinubu who is known to be the "alpha and omega" of the party. To the observers, people are not really disappointed in the PDP "rigging arrangement" because it was expected. However, people are deeply concern about the so-called leagues of "imams and apostles" of justice and democracy in the progressive party that carried out the exact opposite of what they preach.
Of course, we all say that PDP is a party of people without honor. Everybody knows what PDP stands for and nobody was really disappointed with the outcome of their selection process. In fact, a child born last year could predict who would be the flagbearer of PDP right from the day President Goodluck Jonathan declares his intention to run for office. It simply means; "No Vacancy in Presidency because I am here already at least till 2015". There would be no way to take victory from Mr. Goodluck Jonathan even if that primary election was conducted and supervised by the ach-angel Michal from heaven.
Nevertheless, what happened to the Action Congress of Nigeria that parades people like Chief Bisi Akanda as Chairman, Bola Tinubu, Kayode Fayemi, Comrade Adams Oshiomole, Rauf Aregbesola and Saint Nuhu Ribadu of this world? Where does the integrity of these people mentioned lies if their party performed woefully like the PDP that we daily vilified? What happened at the level of the ACN primaries from Presidential to the States were shameful and clear case of how leaders know how to hide their true beliefs. From all indications, these people are crass opportunists, hypocrites who lack integrity and never believed in democratic ethos. People of integrity do what they preach and do something they promise to do. We have no moral justification to keep talking about PDP if your house is not in order. You cannot give what you do not have.
Chief Ahamba, SAN, demonstrated recently that he is a man of honor when he resigned his membership from the Congress of Progressive Change, CPC for what he termed lacked of internal democracy. Ahamba is a very close associate of General M. Buhari but he did choose to preserve his dignity and integrity by calling a spade a spade. He lamented in his letter as quoted below; "We had set out, as most of us believed, to prove that internal democracy was possible. I, for one believed, and still believes, that it is only when a party is able to manage its internal democracy that it can hope to instill same in the national polity. But unfortunately, the presumption of discipline, integrity and transparency as the foundation of the party has been largely rebutted, and the noble aim betrayed. This definitely is not what we set out to achieve, and I will not wallow in self deceit".
This is a clear example of a man of honor, integrity and someone who believes in what he preaches.
Where is the integrity if Dr. Jonathan forcefully imposed himself on the party against the zoning arrangement of PDP? Where is the dignity of "Saint" Nuhu Ribadu if he gets the Presidential ticket fraudulently? Nuhu Ribadu should be reminded that Barack Obama never won Democratic presidential ticket through acclamation. President Obama never rode on the back of any known "god fathers" to get to the White House unlike him that rode on the back of Bola Tinubu to clinch the ACN ticket. I stated this because Ribadu's supporters are always quick to compare him with Barack Obama of the United States.
Contrary to what they made people to believe that the duo of Alh. Mallami and Bafarawa opted out of the race for Ribadu, the fact was that the two gentlemen were fraudulently edged out of the race in an undemocratic approach.
It is so disappointing for a political party like the Action Congress of Nigeria, ACN which has been at the forefront of the campaign for genuine democratic ethos in Nigeria of which has made people to erroneously believe that the party is of the progressives to have done worse than the People Democratic Party, PDP of which we condemn daily. With the fraudulent primaries held by the ACN across the nation which, has attracted protests and condemnations both locally and internationally, I dare ask the owners of the ACN to tell me; Where is Justice and Democracy as you daily chorus as your party slogan?
Finally, it no doubt that by the time we will be having general presidential election in April 2011; it will just be a matter of rigging fire power of Ribadu versus rigging fire power of Dr. Goodluck Jonathan because both of them rigged to take their respective party tickets. What else can't who stole his party mandate not do? They will steal votes in the general election and steal our money with impunity. "History punishes those who resort to force and fraud to suppress the claims and legitimate aspirations of the majority of the country's citizens". – Mandela. We all know and agreed that there cannot be peace without justice. Let us look around and see the spate of violence all over the country; it is all about injustices everywhere. Politicians have responsibility to ensure that they have internal democracy and do away with all dictatorial tendencies that can give room for violence. The government must ensure that a level playing ground is provided for a free and fair election that will not result into anarchy and act of terrorism. Until that time; there will be no "power" at the shout of PDP and people will murmur as against the normal "Justice and Democracy" at the shout of the ACN.
Oludare Ogunlana is the President of the Global Agenda for Development, GAA
www.global-agenda.net. [email protected]


Disclaimer:

"The views/contents expressed in this article are the sole responsibility of the author(s) and do not necessarily reflect those of The Nigerian Voice. The Nigerian Voice will not be responsible or liable for any inaccurate or incorrect statements contained in this article."
Articles by thewillnigeria.com