OBASEKI, OWUMI,TOTAL PROMOTIONS FACE EFCC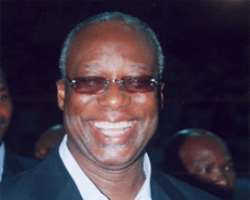 •Obaseki
The Nigeria Premier League's former chairman, Chief Oyuiki Obaseki, and the incumbent, Davidson Owumi, with his vice chairman, Alhaji Shehu Gusau, are to face the officials of the Nigeria's anti-corruption agency, EFCC, today to clarify issues concerning the league broadcast rights deal.
Obaseki, who signed the original deal, has been invited along with Owumi and Gusau, who was also vice chairman under Obaseki.
Also to appear before the agency are: Niyi Alonge of Total Promotions.
A letter to that effect was received by the NPL on Friday afternoon, but the officials are not expected to appear before Monday.