MANDELA SHOULD HAVE BEEN FLOWN TO NIGERIA FOR TREATMENT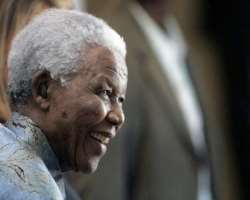 FORMER SOUTH AFRICAN PRESIDENT NELSON MANDELA. PHOTO CREDIT: AP.
Thank God Mandela is not a Nigerian. He is the most respected and revered African alive today and he must stay alive. We are also very proud of the medical tertiary care he received in South Africa otherwise Mandela could have been flown to some foreign Country where they would install some microchips in him so that all state and personal secrets would be revealed. Nobody does that in Nigeria so let Surgeon General Vejaynad Ramlakan of South Africa know that there are hospitals in Nigeria that can treat world leaders in confidence.
Before some smarty pants wonder why we do not treat our VIP (Vagabonds In Power) that run overseas for headache first before treating Mandela, we say: don't be ignorant. We now live in a world of free trade with one another and we cannot discriminate against mental or medical patients that need treatment. It is even more important to share some of our knowledge of rich men diseases that cannot be cure outside of Africa with foreign countries by sending out guinea pigs for experiments no matter how much it cost us. We export cash and diseases together.
In the case of those uninformed, Nigerian medical facilities are so good they have attracted the greatest and the best from all over the world. One of our foremost and well recognized medical treatment centers is located here in Abuja called Sekiseki & Alao Miracle Medical Center. It is a tertiary hospital under the skillful supervision of another great medical icon that was a primary care expert in his previous life but comes back in his ghost as tertiary miracle worker.
Professor Ransome Kuti was well known around the world and his presence in Sekiseki & Alao Miracle Center has attracted people like a King of Saudi Arabia that had multiple organs failure. By the time he was rushed to Abuja in air ambulance, he was almost dead. In short, he left the Center whole and hearty enough to walk to Saudi Arabia. These specialist hospitals are located at our reputable teaching hospitals all over Nigeria. We do not need to fund our hospitals like those our VIPs run to abroad since they are self generating money making hospitals.
Mandela is a very old man at 92 years of age but that does not mean he could not live for many more years. Many foreigners did not realize that at our University of Nigeria Teaching Hospital in Nsukka, patients that are been given up for dead are brought back to life. Under the skilful supervision of the great Professor Ikejiani during the war in Nigeria, Biafran and Nigerian soldiers given up on were brought back to life there and returned to the battle field to fight one another to death again and again. This was was why the war lasted that long.
University of Ibadan Teaching Hospital specializes in upstairs diseases like Alzheimer, Parkinson, brain injuries etc with a well established center in Abeokuta called Aro Miracle Center manned by none other than the ghost of Professor Lambo. Near Aro is Lagos where Baba Mokelegbe Mental Home got several awards for treating the crazy guys like the one that shot Ms. Gabrielle Gifford in Tucson Arizona. He needs to come to Nigeria for mental treatment to be sober before facing murder charges in the USA.
Ahmadu Bello University Teaching Hospital under the capable ghost of Professor Ishaya Audu has a well established unit for pocket, foot and mouth diseases to treat people suffering from kleptomania like Wall Street pyramid swindler Mr. Madoff before sentencing. Since USA believes in due process like Nigeria, people like Madoff and Jackoff need to be flown-off for treatment in Nigeria first. This is the problem with lack of information about Nigerian teaching hospitals that our VIPs do not advertize enough.
Se you get?
As soon as sick and important personalities start coming to Nigeria for treatment, there will be no need to send our VIP abroad with their ailments. Nigerian psychologists, doctors, medical engineers, pharmacists, nurses, social workers do not poke-nose in other peoples' business and have no need to employ computer wizards to installed microchips and other gadgets in sick people in order to get information from their countries.
Our health aides, cleaners and orderlies are very dedicated to their jobs and will never sell or spill information about sick people to the press. So, please if you are well connected in your countries and need medical treatment for the men of timber and caliber, Nigeria hospitals are the best place for your VIPs.
Disclaimer:

"The views/contents expressed in this article are the sole responsibility of the author(s) and do not necessarily reflect those of The Nigerian Voice. The Nigerian Voice will not be responsible or liable for any inaccurate or incorrect statements contained in this article."
Articles by thewillnigeria.com