I WISH I COULD SPEAK IGBO FLUENTLY -MILLICENT, PLATEAU 'GIRL' WHO MARRIED IMO 'BOY'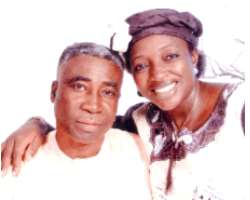 Back in 1996, the home of Chima Chukwunyere was one of the few private homes with a satellite dish (a once prominent status symbol in those days) that was not torched by rampaging youths protesting the gruesome murder of a fatherless 12-year-old boy, Ikechukwu Okonkwo, who was hawking groundnut to help his mother pay school fees for him.
In those dark days, 419 individuals and other men of questionable character flaunted their wealth and caused traffic jam on city streets by just stopping in the middle of the road to engage in conversation across the space between their cars, without caring a hoot for the feelings of other road users forced to endure the indignity and carryings-on of the ne'er do wells.
Residents of Owerri seethed with anger for months until Ikechukwu was beheaded by Innocent Ekeanyanwu, a staff of the defunct Otokoto hotel, probably for money rituals. Arrested by police and interrogated, he mentioned the names of his sponsors, who were the 'top' people in the society at the time. While in police custody, Ekeanyanwu was poisoned. The obvious attempt to protect his sponsors triggered the Otokoto Riots, during which youths gave vent to their long-suppressed anger against the criminal nouveau riche.
When these youths got to Chima's house, the big size of his satellite dish attracted their attention. Believing that the house belonged to one of the bad people troubling the city, they converged on it ready to burn it down. But Providence raised an angel, in the person of his neighbour who rushed out, screaming: 'The house belongs to Oga Domino, he is a good man.'
Incidentally, among the rioters were several young men who had enjoyed the privilege of watching European championship matches on the grounds of his hotel, free of charge - a rare opportunity in those days when DSTV was non-existent. The rioters later trooped to his hotel and apologised profusely for their near-fatal error.
Simply, Chima in his daily life selflessly touches lives, doing all manner of charity works with his meagre resources. So when his first wife, Edith, a devoted, gentle, sweet soul of a lady, died after 20 years of a childless marriage that was regarded by people who knew the couple intimately as a perfect example of marital fidelity, the whole town mourned the demise of the woman, whose ardent support had enabled Chima to revive and reposition Domino Hotel as the only hospitality facility in Imo State, and perhaps Nigeria, which does not sell alcoholic beverages.
When he first started the process after returning from the United States where he studied hotel management and becoming born-again, the hotel expectedly lost its clientele.
Doggedly, he held on until there was a turnaround in the fortunes of the hotel as Christians and other responsible people seeking a spiritual haven of peace began patronizing the facility for wedding receptions and safe lodging.
Like Jesus Christ promised to send his disciples another comforter, God in due time brought Millicent – another sweet soul – from far away Plateau State - into the life of Chima to replace the rib he lost to death and make him complete again. Incidentally, Nanman – the native name of Millicent means 'God knows.' Today, the couple is blessed with a pretty nine-year-old daughter.
How did this lovely union come to be? In this interview, Millicent tells their story. Excerpts…
How do you feel about what is happening in Jos?
I feel that it is quite unfortunate. Most of the people dying are even innocent. Some of them don't even know what is happening or they don't have any bias. From the stories we have heard, some people were just stopped on the road and asked about their religious affiliation. If the people who stopped you belonged to a different faith, you were simply killed. So it is really unfortunate because Jos was once a very beautiful place. I grew up there and I know what I am talking about.
What was it like growing up in Jos?
It was quite interesting because Jos was a beautiful place with very pleasant weather. A place where you have freshly-grown food items - vegetables, fruits, etc. All through my schooling days, Jos was peaceful. There was no cultism or disturbances. It was only once that we had students riot and it wasn't funny at all. For such things to be happening in Jos now, it is really unfortunate and disheartening. And I still have my family in that place. Everyday, I am worried and thinking whether they are safe. This is something that never happened before. It is really sad. Those people are trying to turn Jos into hell on earth. It is a pithy really. Jos used to be known as the home of peace and tourism.
As a Plateau indigene who grew up in the North, what has it been like being married to an Igbo man and living in the Eastern heartland?
It has been very interesting and nice too. My in-laws are very good people. They have made life very comfortable for me here. My father-in-law is a very wonderful and god-fearing man. The affection shown to me by every member of the family has made this union interesting. Naturally, inter-tribal marriage comes with its challenges. Language barrier is one major thing.
So how have you been able to cope with it?
Initially, I didn't care about it because I felt that there were Igbo ladies around, and if he wanted somebody who speaks his language I believe he would have married an Igbo person. Since he decided to marry outside Igbo land, then it meant that my not being able to speak Igbo didn't bother him. And actually, it doesn't bother him. So initially I didn't care to learn the language at all. But then as the years went by, I realized that I wanted to learn it. Of course my daughter is a major consideration because she is picking it up. In her school, Igbo language is actively taught to the pupils - just like English language.
There are times I actually wish I could speak it fluently - it is a bit difficult for me remembering words. But I could say I am making progress - picking up words here and there. I know some other women who married Igbo men and they speak the language fluently. In fact I have met a foreign lady working at the Federal Medical Centre, Owerri as a nurse and is married to an Igbo man. She was speaking Igbo like an indigene. If I had not been told, I wouldn't have known that she is not actually an Igbo woman. So, someday, I believe I will also be able to speak Igbo well - but for now it is a bit difficult for me. I don't have a problem with it - at least when my husband speaks, I know he wouldn't be gossiping about me. (Laughter).
How did the union happen?
I believe it was just God's timing for me to get married. I was in Port Harcourt working in a school when we came to Owerri for a Christian programme. I actually stayed in his house with about three other Christian sisters - we were all singles. I never met him before anyway. By the end of the programme it looked like something was going to happen.
What were the signals?
It wasn't more for me really, but more to him. All through our stay, he was very casual towards us, but before we left I noticed his interest in me. More attention was focused on me. Well, I was a bit worried about the whole thing because he was some years older than me and also well established. Coming to a big house like his was a bit upsetting and confusing, will I say, until he made his intention known in a very direct manner a few days after. He didn't beat about the bush. But before then I had started praying because I felt this inward leading that something was going to start off. So when he made his intentions known, it was done in a straightforward manner.
Can you recall his exact words or at least give me a general picture?
Well, I can't recall his words verbatim, but he told me about himself - something like the whole truth and nothing but the truth - this is who I am, this is my life, I want to marry you, these are my dislikes, etc. He sort of gave me his 'dossier' in a nutshell.
You know that in the movies the man often proposes in a romantic way, perhaps after a candlelit dinner in a cosy restaurant with the right the ambience. Was his style of proposing shocking to you?
Ehm, actually it was somehow, because it was sudden and I was taken off guard. It just didn't conform to 'pattern' - you know, you meet somebody, you talk over some time, develop interest in each other, and after a period of time the person makes his intention known, etc. I mean, there is an elapse of time between first meeting and proposing.
But this was not like that at all. I had been praying to marry anyway - it was not as if I didn't want to marry - but when it happened, it was faster than I had anticipated. In a matter of three months, we were married. In fact when I told my sisters about him and his intentions, they said it was too hasty. You know that sometimes in Nigeria, when something is hasty, people feel that it is not so good; they probably think that man has a hidden agenda, which would explain his haste to rush through the process. But after awhile my sisters they also believed that it was God's will for me.
Prior to meeting him, you said you had been praying for a partner. While you were praying, did you leave your choice of a partner open? Like if a man comes from anywhere…were you particular about tribe?
No, I wasn't interested in the tribe thing much. I had stayed in Plateau State almost all my life. After national youth service, I stayed in Makurdi, Benue State for about seven years before I went to Port Harcourt to work. I felt that I had had enough of Plateau State and I wanted something different. Tribe wasn't a factor. All I knew was that the man had to be a grounded Christian. I mean, if you are praying to God for a life partner, and you are open to Him, you should expect the person to come from anywhere. If you decide to pinpoint your choice to a particular place or tribe then you are limiting God.
What did you find most fascinating about him?
Sincerely, it was his honesty that I found very attractive. In fact when he came to Port Harcourt to declare his intention, he didn't hide anything about himself from me. He showed a great deal of honesty. He told me he was married before and that his wife passed away in the Lord; that they had no issue till she died - after 20 years of marriage.
In fact, when I told my father how many years they stayed together without an issue and they didn't have a problem, my father said that 'showed a man of integrity' and to be respected a lot. My father appreciated that a lot. Then I also knew from my interactions with him that he is a Christian, a true child of God, which was very important to me. I didn't want to want a churchgoer - a nominal Christian. That was another attraction and he really was crazy about me.
Is it true that women prefer men that are really crazy about them?
Personally, I feel it is better that way than the woman being after the man. If it works that way, you will have a hell of ride with the man because when you marry the man becomes the head of the house and will definitely be the man. He may not appreciate you - you will do a lot of things yet the man is not really excited or pleased. If it is not a 50-50 relationship, then let it be that the man is more excited about the woman than the other way round. It works better that way.