NIGERIA MUST READ TO BE GREAT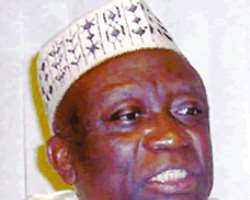 Before he became the Association of Nigerian Authors (ANA) president, Hon. Jerry Agada had served as the ANA vice president. He also was minister of state in the late President Umaru Yar'Adua's administration. Less than a year to the completion of his term, Saturday Sun sought his view on the literary community.
Do you think the vigorous campaign on reading culture in Nigeria is yielding results?
You can see it for yourself that it is catching on. You were at the Garden City Literary Festival in Port Harcourt recently. There is an enthusiasm among those in authority to support reading and literature. When you put it side by side the appearance of President Goodluck Jonathan in Lagos at the Bring Back the Book campaign, it shows that what we have been advocating is catching on. If you remember, I flagged off the National Read campaign when I was the minister of state for education to take our people's minds back to the importance of reading.
It is also a way of stemming the falling standard of education that we are always talking about. Mr. President is getting involved. That shows the society that when we talk about reading, it is not just the classroom type of reading that people do and write exams. Reading is for everybody: reading for pleasure; reading for self-actualization and self-enhancement. The whole thing happening around the literary circle, to me, has improved.
So, how precisely are these literary activities impacting on reading culture?
The fact that the activities are going on and people are talking about them shows that, yes, that is something to be done. I think it is dawning on the people that a reading nation is a leading nation; more so, now we are talking of becoming one of the leading 20 most developed nations in 2020. If you want to achieve that, definitely you have to carry along yourself with these activities, including reading.
The arts sector has been campaigning for the establishment of an endowment for the arts. How will this enhance the development of writing in Nigeria?
The point is that the N250m Endowment for entertainment and creativity, which the government has budgeted for the entertainment industry ought to cover all aspects. It should have a comprehensive coverage for all creative activities, including reading and writing, because they are part of the whole thing.
When it does not cover them, it does not augur well, and I think all creative minds should make sure we are part of the beneficiaries. The reading by President Jonathan in Lagos on December 20 gives me the impression that reading is in the mind of those in government and, therefore, government should know that part of the endowment for entertainment and creativity should also include the book industry.
But there are some who think that collaborating with the government is a sell-out for the literary enterprise…
I have always argued it. There is no sell-out there. When you have your focus, you know what you are doing. I mean government is not in isolation; writers are not in isolation. We are all working together to build the society. Therefore, we should work hand in hand as long as what we are doing is enhancing the main purpose and objectives. That collaboration should be encouraged rather than discouraged.
The previous administration embarked on creative writing workshop. What are you doing to continue the tradition?
It is in the pipeline. We have arranged for all these activities to be taking place. Our usual problem is getting sponsorship and funding, but we don't want that to discourage us. We are putting our creative ideas into place to see how all these things can come to play, because all put together is what forms the activities of ANA.
You ran for the governorship position in 2007 with former governor, George Akume. What's happening to that aborted dream?
I tell my friends that I look at myself as a kingmaker now. In other words, I want to make sure that we have credible election in Benue State. I stay to make sure that there is peaceful election in Benue State. You will agree with me that Benue State, right now, is one of the most peaceful states in Nigeria in terms of political squabbles. We want that to be maintained up to the elections so that, at least, at the end of the day, the entire country will envy whatever will come out of Benue State. I am comfortable just being a kingmaker now. I have no intention of going for the governorship or any other position in my state, because my governor is doing very well and people are clamouring for him to continue for a second term. Since the governor is doing well, there is no need for me to go and challenge him so that I can do better.
In 2005, you published the anthology, 500 Nigerian poets. The second edition is yet to come. What's happening?
After it came out, I went into political activities, contesting governorship position in my state and becoming a minister thereafter. So, it hasn't been easy combining these activities with the magnitude involved in publishing. Even now, I am not resting. But the idea is not lost. I am still hoping that the second edition will come out.