'ACN BEATABLE IN SOUTH-WEST'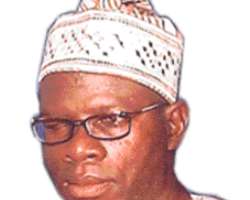 Friday, January 28, 2011
•Soniyi
Jonathan on South West
Is it not only to recover the South-West? The South-West belongs to the PDP. Like I always tell some people in the House, the judiciary has played its own role, we will go to the people's court, and we have started in Lagos State within Ikorodu. People believe there is a myth in Lagos.
I don't believe so. All we need is passionate leadership, a well committed leadership, and you will have it. That was what happened in Ikorodu. We can make it. After all, we are all Lagosians, they don't have two heads. Why can't Mr A do it and Mr B cannot do it, I don't believe it, so PDP can do it.
Reclaiming mandate
They don't know the politics of it. That's why they are surprised. Those of us who are principal leaders are trusted by our people. We mobilize them, we keep them abreast of happenings. People have the impression that Ibeju/Lekki will always go contrary to what others do. No!
We study the situation and we go own way, if it becomes necessary. If it is possible to do it together, we do it together, and that is the situation. Why should people be surprised? The two seats (Ibeju/Lekki in the State Assembly were won by PDP prior to my own election. From day one, I believed it might take some time, but I knew that I was going to claim my mandate after Ward I, which is our base was cancelled. Why should soldiers be brought into the collating centre at Akodo?
Lekki-Epe toll gate
Why should it happen in that place? They just want to suffer our peopole. What economic benefit will my people derive. I don't appreciate it. My people who move from Ibeju/Lekki to Mile 12 to go and buy pepper and they are now to pay tolls. My people are poor. It's a rural set up. Why should it now happen to us? What is so special? Not even when Lagos State is making a lot of money from the sale of our lands, yet we are losing everything, as if that is the only place in Lagos State that land is available.
Now, they are adding to our problems. Why? There are no facililties by the state government there, no infrastructural facilities to compensate for this. Go to schools at Lakowe, where I am trying to do something through Federal Government assistance. Can you believe that people still read under trees? I was shocked seeing teachers and students under trees in Lagos, centre of excellence. It should be excellence in practice, in everything. It should not only be the metropolis that you have to make decent, even the rural areas. We are all citizens. We all pay tax and vote. You should focus attention on the rural areas.
Education and constituency
Generally, my constituency is educationally disadvantaged. I want to recall that when I was the council chairman in 1997/98, I gave a lot of priority to educational development, and let me say that my local government was the first to pay WAEC fees in 1997, long before state government started doing it. We paid the schools of all, whether indigenes or non-indigenes.
We were able to print exercise books. We limited it to exercise books, big notes and drawing books because of the resources at our disposal at that time. We also tried as much as possible to improve some deficiencies in the schools structure at that time, and people really commended our efforts. So, I believe education is the greatest investment any parent, any nation can give to its people. An educated person will always do it better than others, even if you are a cleaner, because you are exposed. Look at the vision of the late sage, Chief Obafemi Awolowo.
We benefited from it and we gained a lot from it. If you are not educated, you won't get there. You can't be a member of the House of Representatives, you can't be a minister. It is basic to everything, and it is to me. I will try as much as possible to sensitise our people on the need to appreciate what education is all about.
JAMB forms sponsorship
It is just part of what I have just told you. As it is, some may not have opportunity to get the forms I just felt we should just start from somewhere. For some of those who were fortunate to benefit from the forms, other things may come up on their way to university, but if you don't even start by buying the forms, you are not there. So, the journey of a hundred miles starts with a step.
We have given out the forms irrespective of party or tribal leaning. Education is universal. After all, the man who does not support you today may be your greatest supporter tomorrow. That's my own attitude to it, so I told my aides to give every qualified person. I am representing them and that is governance. Once you win the general election, you are representing everybody. Everybody must access to whatever you can do within the limit of your resources.
Constituents response
I am surprised. I never expected that my people are very conscious of education now. So, it has really encouraged me to purchase more forms for them before it closed. I tried to satisfy all those that qualified to write the exam. We demand their school certificate result first, to ensure that the forms were given to people who can attempt the exam. I am very happy about it, very, very happy. The way it is now, not less than 200 people have benefited.
Future projection
You know we have a tradition in Ibeju/Lekki, Zone. The Reps position has been zoned out of my area and I am satisfied with the two years of my being in the National Assembly. I am contented. What is important is to be contented. There are other areas you can serve your people. Within the short period I have been able to complete one of the projects embarked upon by my predecessor, which is motorized borehole at Mopo-Ijebu.
It was commissioned recently. Even the school there, we finished it. On my own part, I have been able to procure some transformers. There is an ongoing school project. In my own village, Iwereku, an electrification project between us and Awoyaya. There is also solar-powered borehole for Iwereku, Akodo and Arapagi in the pipeline.