PDP GOVERNORSHIP TICKET: OBJ LOSES AGAIN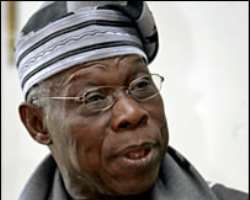 Speculation was rife at the Peoples Democratic Party (PDP) national secretariat yesterday, that the former president and Chairman of the party's Board of Trustees (BoT), Chief Olusegun Obasanjo has lost out in the power game in the state.
Unconfirmed report said Gboyega Nasir Isiaka, the gubernatorial candidate of the PDP faction loyal to the Ogun State Governor, Otunba Gbenga Daniel was at the party national secretariat, Abuja to pick the Independent National Electoral Commission (INEC) governorship nomination form
Two primaries were held for various elective offices in the state. While the faction led by the Minister of Commerce, Jubril Martins-Kuye believed to be loyal to the former president was held at the Olusegun Obasanjo Presidential Library in Abeokuta, the pro-Daniel group under the leadership of Chief Joju Fadairo was held at the MKO Stadium Complex, also in the state capital.
A former Oyo State military administrator and erstwhile ECOMOG commander, Major Genenral Adetunji Olurin emerged at the pro-Obasanjo primaries, while a former group managing director of Gateways Holdings, Alhaji Gboyega Isiaka, emerged as governorship candidate in the primaries conducted by the Joju Fadairo- led Ogun State PDP executive.
Isiaka who arrived at PDP national secretariat at about 12.35pm was led to the first floor office of the National Organising Secretary of the party, Uche Secondus by protocol officers where he picked the INEC form that were reserved for only the accredited winners of the party primaries.
Daily Sun was also informed that Isiaka also collected the nomination form for the Ogun State Commissioner for Works, Prince Adesegun Adekoya who won the PDP primaries for Ijebu North/Ijebu South/Ogun Waterside Federal Constituency.
With the development, the beleaguered daughter of the former president, Senator Iyabo Obasanjo-Bello might have lost out to the faction of the incumbent governor, Gbenga Daniel. The PDP ticket for the Ogun Central Senatorial zone would now be given to Abiola Edewor, the daughter of the late Social Democratic Party (SDP) presidential  candidate, who won the June 12, 1993 presidential election, Bashorun M.K.O. Abiola.  Edewor-Abiola had vowed not to concede her ticket to Senator Iyabo Obasanjo.
A Daily Sun source also revealed that the former president had met with President Goodluck Jonathan earlier in the week to make case for his daughter, Iyabo and the former Oyo State military administrator, Olurin, but met with brick wall. 'It was the desperation after President Jonathan had made his position known that informed the court injunction to restrain the party from submitting names of candidates to INEC,'' Daily Sun source further revealed.
Efforts made to speak with the PDP National Legal Adviser, Chief Olusola Oke  to confirm, if the party was served with any injunction, in respect of the party primaries  in Ogun State proved abortive as he failed to respond to several  phone calls made by Daily Sun reporter.