We Are Ready To Form The Next Central Government - ACN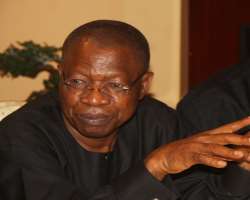 ACN NATIONAL PUBLICITY SECRETARY, ALHAJI LAI MOHAMMED.
ABUJA, Jan 26, (THEWILL) - The Action Congress of Nigeria (ACN) has said it is ready, able and willing to form the next central government, contrary to reports that the party is not interested in the presidency in 2011.
In a statement issued in Oro, Kwara state, today, the National Publicity Secretary of the party, Alhaji Lai Mohammed, said a newspaper headline to the effect that the ACN was not keen about winning the 2011 presidential election took the comments he made in an interview in Ilorin out of context.
''Our party, which has been growing in leaps and bounds, is undoubtedly the most prepared to offer Nigeria the leadership it so desperately needs at this time to move to greater heights. It is therefore untrue that we are not ready to contest and win the presidential election in April,'' he said.
On the ongoing alliance talks between the ACN and other parties, the ACN spokesman said his party is not just a beautiful bride, as it has been described in many publications, but a possible husband.
''With every respect to the other parties involved, our position in this relationship (with other parties) is that of a superior partner, considering how far we have come and the impact we have made in the several states under our control,'' Alhaji Mohammed said.
He said while the ACN will not shy away from contesting the presidency on its own, it is also not averse to teaming up with other parties that share its core values and aspirations, including the provision of good governance, principled and committed leadership as well as ensuring life in abundance for all Nigerians.
''Those deluding themselves in their erroneous belief that our party is not ready to take the centre stage in 2011, and steer Nigeria away from the current path of ruination to which it has been put by the PDP in the past 11 years, will be shocked in April, when Nigerians will overwhelmingly use their votes to propel us to power at the centre,'' the spokesman said.