700,000 VOTERS REGISTER IN OGUN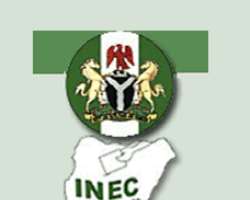 The Ogun State Resident Electoral Commissioner in the state, Mr. Martins Okunfolami has disclosed that no fewer than 700,000 eligible voters have registered.
The REC, who made this disclosure while inaugurating a road show and sensitization rally in Abeokuta  said this figure was out of the projected 1.6 million voters in the state.
He said the Independent National Electoral Commission (INEC) was working hard to get over the many challenges that had been facing the commission since the registration started. The INEC boss who assured that all eligible voters would be registered also said all the Direct Data Capture (DDC) machines used in the exercise had been upgraded to meet the yearnings of the people.
In a related development, hundreds of students under the aegies of Isara Students Association, yesterday, protested the alleged attack on the  (INEC) Assistant Registration Officers in Isara- Remo, Ogun State on Sunday by some politicians in the town. Describing the incident as very unfortunate, the students accused a member of the state House of Assembly, Boye Olusola as being behind the incident which occured at the Ansarudeen Primary School, (A.U.D.) Isara.
The leader of the students, Mr. Ajayi Olaniran, President, Isara Students Association, urged the state Police Commissioner, Mr. Musa Daura to stop the ugly tide in the council area which they reasoned might disenfranchise many eligible voters. The students alleged that the lawmaker led a group of bandits carrying guns, cutlasses and broken bottles to the voters' registration units, where people who had queued  for registration were molested and some wounded.
According to them, it was the grace of God that saved the life of one of the female corps members, Miss Peace Uwachukwu at the (A.U.D.) registration unit. While the students assured that they would ensure that peace and tranquility reigned in the town, they, however, warned that they would not fold their arms for anyone to attack their people.  'We will work with the Isara Community Development Association and the local government to ensure that peace reign in this town.''
Reacting to the allegation, Mr Olusola said he knew nothing about the allegation and  warned the students not to allow themselves to be used by politicians in the council area who were desperate of attaining the height that God had not destined for them.
Speaking through one of his political aides, Mr. Monsuru Adeyanju, the lawmaker said: 'I  am a law abiding native of this town, I knew nothing about the allegation. What is happening is that some politicians in the council area are using some students for their political gain.''