PDP Draws Battle Line With INEC Over Conduct Of Fresh Congresses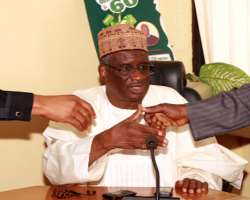 PDP ACTING NATIONAL CHAIRMAN DR HALIRU MOHAMMED BELLO.
San Francisco, Jan 25, (THEWILL) – The Peoples Democratic Party (PDP) and the Independent National Electoral Commission (INEC) are destined for a showdown ahead of the April general elections as the PDP today insisted on going ahead with the conduct of fresh primaries in some states as announced over the weekend.
The ruling political party has said the electoral commission does not have the authority to stop the conduct of its rerun congresses.
National Legal Adviser of the PDP, Chief Olusola Oke told journalists at the PDP National Secretariat during a chat that the ruling party would disregard INEC's objections to its fresh congresses adding that, "INEC has no powers to reject the list submitted to it by any political party. It has no such power.
Oke said, "INEC is a creation of law, it cannot appropriate to itself power that is not given by law. PDP is also a creation of the constitution. We know our rights and limitations under the constitution. I believe that this will not really generate controversy. We are still doing our internal process. By the time we conclude it, we will send our list to INEC and INEC is under obligation to accept it.
"I do not think that INEC can decree that we will not be able to conclude our primaries. I trust that when we have opportunity to meet with them we will explain our position to them, they will also explain their position and there will be an understanding. The issue of INEC even preparing timetable in the first place to me is an unwarranted incursion into our internal activity. There are elections that are not concluded and the 60 days or 45 days prescribed by law after which we cannot submit names has not come in. These are elections which were either not concluded or they were concluded on the field and we found that they were marred by gross irregularities and they had to be cancelled. They could not have produced candidates that will win election for us. So we are going ahead.
"INEC has drawn our attention to sections 133 and 153 of the Electoral Act. I have read it clearly, it does not give INEC powers to reject any candidate. I have also read the position of Section 31 of the Electoral Act, it imposes an obligation on INEC to accept any list that we give to them provided it is done before 45 days to the election and we are still more than two months to the day of election. So I believe it is a misconception.
"The Electoral Act is very clear on the power of INEC and on the rights of political parties. We believe that until the time limit by law comes in, we are entitled to handle our primaries as to how our candidates will emerge," the Adviser stated.
Recall that INEC had written a letter to the PDP Acting Chairman, Dr Haliru Mohammed Bello urging the party to respect its timeline for congresses which the electoral commission said lapsed on January 15, 2011.
The PDP had resolved over the weekend to conduct re-run Governorship primaries for Kogi and Kano States. It also ordered a rerun of senatorial primaries for Delta Central, Oyo Central, Sokoto East, Bauchi North, Taraba Central, Adamawa South, Adamawa North, Kogi Central, Kogi East and Kogi West.