WHY NIGER CHRISTIANS ARE IN LOVE WITH GOV ALIYU, BY CAN LEADER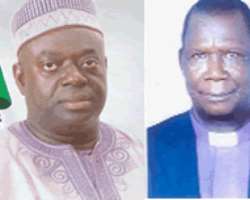 Reverend Musa Dada, Chairman of the Christian Association of Nigeria (CAN) in Niger State was called into God's vineyard in 1974. Same year, he enrolled at the then Pastors' School in Kaduna. He graduated same year and shepherded about two churches in Ungwar Sanusi and Kabala West, both in Kaduna, before returning to Minna, his home place.
For over 30 years, he had experienced official policy discrimination against Christians and he and others had watched helplessly, only praying for God to change things for good.
Year in, year out, different governments have treated followers of Christ in the state as second-class citizens, especially in the area of government sponsorship to holy lands.
He particularly recalled some years in the recent past when over 4,000 pilgrims were sponsored by the state government on pilgrimage to hajj, while the same government could only sponsor less than 100 Christians on holy pilgrimage to Israel.
Another area of worry to Reverend Dada and other clergymen in Niger State was the complete refusal of past administrations in the state to recruit teachers for Christian Religious Knowledge (CRK) in public primary and secondary schools in the state. At a point, the subject, which is at the heart of every Christian student was almost going into extinction.
'I think I am just lucky to come in as CAN chairman during the era of a governor who is not ready to be blindfolded by religion. Since he came into office four years ago we have seen that he is ready to carry everybody along.
'For example, the man sponsored over 300 Christians on pilgrimage to Israel last year alone, this has never happened in the history of the state. When we came in, we dialogued with him and he listened to us and some of the issues we raised are yielding fruitful results.
'Before the coming of Governor Muazu Babangida Aliyu, Niger State government used to send very small and meager number of Christians on holy pilgrimage, number of Christian pilgrims used to count in tens while their Muslim counterparts were counting in thousands.
'Thank God the coming of Governor Aliyu has changed this. Over 300 were sponsored for the last pilgrimage. It was a dream come true.
'Another positive thing from this government is the employment of teachers of CRK in our public schools. Before now, the number of CRK teachers kept diminishing because the few old ones in service were retiring from service and were not being replaced.
'At CAN level, we kept on calling the attention of past governments to this but there was no positive response. They just stopped the recruitment of CRK teachers. That time if you went to our schools, you saw our children roaming about the school premises at a time they should be attending CRK classes.
'We took up this issue with this government. They challenged us to bring to them names of qualified persons to teach the subject. We advertised the positions through our coordinators in each local government and we came up with over 200 applicants.
'Initially it was the erroneous belief of government that there were no qualified persons to teach the subject, that those we parade are seminarians who were not qualified to teach in schools or have no teaching qualifications. We took up the challenge and came up with over 200 qualified persons. The seminarians among them are very few.
'As I am talking to you now, the state government is about giving those people appointment letters to teach in our public schools.      
'We started with secondary schools and I can confirm to you that very soon these people will be employed. CAN did not just gathered seminarians, the people whose names we submitted are people that finished from colleges of education. Majority of them are NCE holders. Only few are seminarians.
'The government is doing good for Christians in the state. At least he has not exhibited any attitude of discrimination. He's been fair to all sects, the reason been that he is a learned person, highly exposed and highly educated. He is a good administrator, he has been carrying us all along.'
According to Rev. Musa, one mistake many political leaders make is that sycophants come around to tell them all sorts of things, telling them who their enemies are and who did not vote for them during elections, in the process they derail.
'As a leader, those who are opposed to you should not be sent away, try to bring them close to you. Every leader should have this at the back of his mind. You can't expect all to support you. I think this is one lesson our governor here has learnt. He has come to realize that everybody is entitled to his or her opinion and this is because he is a well-educated person.'
On the issue of non-indigenes, Reverend Musa said no governor has done so much for them as this governor. 'Is it in matters of appointment into the cabinet, or employment into the state civil service, or the conversion of all temporary workers into permanent and pensionable status?
'He has said it over and over again and we have seen him practicalise it that every resident of Niger State is an indigene. Before he came into office, there used to be discriminatory school fees in which non-indigenes pay higher than the indigenes. When he came, he directed that everybody should be paying the same amount since everybody is a Nigerlite.
'I learnt that he has continued to pay the NECO and WAEC fees for secondary school students, notwithstanding their states of origin, or whether you are Christian or Moslem.
'Honestly and sincerely speaking, Christians are in support of his laudable programmes. Though it is not our duty to campaign for him or for any contestant for that matter, as a religious body, we have to be neutral so that people don't misunderstand us. But what we are saying is that this governor has done well, especially as it relates to Christians.