VOTERS REGISTRATION: LIVES OF REC, FAMILY THREATENED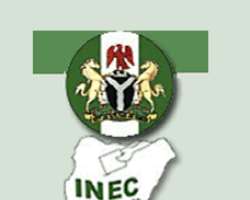 The voters' registration exercise took a scary dimension yesterday in Anambra State when the lives of the Independent National Electoral Commission (INEC) Resident Electoral Commissioner (REC) for the state, Prof. Chukwuemeka Onukaogu and his family members were allegedly threatened.
Onukaogu, who raised the alarm over the threat to his life and that of his family members said unknown persons sent him text messages yesterday with a threat to kill him and wipe out his entire family should their communities fail to register before the expiration of the exercise.
He said: 'I have been receiving threat messages from faceless people telling me that I have compromised and that if by 4 pm today, they do not get registered that they would kill me and my family. One even sent me a text message that if the machines do not arrive on that day, they would kill me.'
He said he had already reported the development to the police and the State Security Service (SSS), just as the state police Commissioner, Muktar Ibrahim, who confirmed the report said he had already deployed more security men to the office and residence of the REC in Awka.
Onukaogu, however, lamented that he had failed in his promise to the people of the state of a hitch-free exercise, disclosing that 805 registration units in the state were yet to receive Direct Data Capture machines less than five days to the end of the exercise.
He said: 'Three companies were to supply us with the machines. Zenox supplied 3,040 as was stipulated, the other one supplied 1,144 as was directed, but Aretos is yet to supply 805 DDC machines. I have reported the matter to my boss in Abuja and he promised that the machines would arrive at Port Harcourt today and we shall surely get our own.'
On what could be done in the circumstance, Onukaogu said, 'I will definitely give them extra time when the machines come and I will not shut down on Saturday because it is not their fault that they could not get registered.'
Meanwhile, angry youths from Ojoto in Idemili South Local Government Area of the state stormed the INEC office in Awka and descended on the REC for the area but for the intervention of security operatives, INEC officials and the President General of the town, Ichie Tiko Okoye, the officer would have been lynched to death.
In a petition signed by the Traditional Ruler of the town, Igwe Augustine Obidiwe and the PG, Ichie Okoye, the town said among other things that, 'Every attempt to have the glaring lapses rectified by the responsible INEC officials has yielded no fruit. Consequently, we suspect foul play, as this is a ploy to deliberately sabotage, marginalize and disenfranchise our people in order to coral us into the cesspool of structural and political disadvantage.
'You may recall that Ojoto, the local government council headquarters and third largest town in the local government area, has only one ward, while smaller towns around have two or more wards.'