DDC MACHINE DISASTER, NORTH POGROM, AND 2011 ELECTION FEARS - DOES PROFESSOR JEGA HAVE A PLAN B?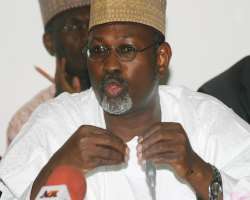 PHOTO: ELECTION COMMISSION CHAIRMAN PROFESSOR ATTAHIRU JEGA.
Most Nigerians were impressed with the manner in which most of the party primaries just concluded last week was conducted. Even though the campaign for delegates was not quite transparent, and without genuine debates, nevertheless, the procedure and order for selecting presidential flag bearers was very transparent. I believe most Nigerians who witnessed or watched them live on NTA were satisfied.
This week, our attention and focus turned to INEC and the so-called Direct Data Capturing (DDC) machines for voter's registration exercise, which is an innovation in the way that Nigerians had registered and voted before. The DDC machine is simply biometric database software that captures bio-data information about a person, stores them in the backend database. It also has the ability to capture photographic data and finger prints. This is a noble idea for Nigerians, where elections are usually and poorly organized with malpractices and irregularities, and election results massively rigged and manipulated.
However, four days into voter's registration exercise, I have watched with great consternation concerning the DDC machines and the time it takes to complete one registration. I watched with horror the malfunction of the DDC machines and perhaps the under trained and computer illiterate INEC officials who operate such biometric computer systems software.
I have many questions to ask Prof. Attahiru Jega and INEC leadership regarding the DDC machines that were supposedly developed – who knows from where – another third world country to enable INEC and its operators register every eligible Nigerian for the general elections in April this year.
1. Sir, do you have a Plan B to register about 70 million eligible Nigerians for the April 2011 general elections?
2. Can Prof. Jega tell us which company developed the DDC software?
3. Why were these machines not brought in six – twelve months ahead of time for pilot testing and training of INEC officials?
4. What analytics and criteria were used to develop the DDC software?
5. Does the DDC software have a centralized database and good network infrastructure?
6. How quick and fast can biometric data be retrieved from the system? Does it have a query mechanism?
7. What kind of performance metrics was provided?
8. Were INEC officials properly trained on how to use, diagnose and troubleshoot errors and hiccups?
9. How many Nigerian IT consultants, developers, programmers and analyst were involved in the analysis, design strategy, architecture and contract negotiations with the providers of these DDC machines and software? Or was it just the politicians and business people who don't have a clue about bi-o-data application database, e-data technology and underlying architecture.
10. How soon can the suppliers of this faulty DDC machine develop a quick or another solution to enable your organization, INEC conduct a credible elections in about four months?
The April 2011 general elections may be elusive if INEC leadership and the presidency do not come up with a plan B to remedy the horrifying hitches of the DDC machines. I read that a whopping 40 billion Naira was spent for the development and supply of the 120,000 pieces of DDC machines that were loaded with malfunctioning biometric database software - perhaps not properly written, tested and developed with used notebooks for the Nigerian people. It is insane and ludicrous for INEC leadership to blame faulty and malfunctioning equipment on dirty palms, cut in the finger, medical condition and National Youth Service Corps. First of all, such criteria should have been taken into consideration. Additional, why NYSC! Any Nigerian walking down the street can be trained how to operate the DDC machine in 10 minutes and he or she can operate it successfully. It is irresponsible and an insult for INEC leadership to blame poorly designed and malfunctioning equipment on National Youth Service Corps. Prof. Jega, this is a litmus test and I propose to you to consult immediately skilled Nigerians and biometric database experts for a quick solution otherwise, the 2011 general elections may be the worst in the history of Nigeria - if not bloody.
How dare you blame dirty fingers, health problems and NYSC for the malfunction of equipment that was poorly developed and sold to ignorant Nigerian business men and foolish politicians? Those aspects should have been taken into consideration including rubbing too much lotion in the palms, wounds in the palm, plastic surgery and heavy make-up can cause such biometric data collection to function incorrectly.
During the time of president Obasanjo, over 300 billion Naira was awarded for national identity cards, but sadly enough, it was embezzled and today, the nation is paying a huge prize for poor leadership and irresponsibility. If the national identity card project had succeeded, it should have had all the necessary bio-data information with a picture ID and fingerprint on it – so that it can be used during census and national elections as well as identification of those who are truly Nigerians. I suggest that drivers, traveling passports, worker's ID and other identification cards be used to vote in April 2011 elections, while INEC and its leadership take time to work on the DDC biometric machines.
It is horrifying to read that it takes 40 minutes to two hours to successfully register one person. That's insane. The process should take 5 minutes and not more than 10 minutes to register a voter. Almost one week into voters registration exercise out the two-week period scheduled for the exercise, only one million out of seventy million has been registered. How long then will it take to register 70 million eligible Nigerians for the 2011 general elections? If I am correct in my mathematical calculation, it would take about 70 weeks to register 70 million people assuming INEC officials have the work ethic, attitudes and mannerism for 8 hour workday. This is idiotic. Nigerians are being tricked again. Voting is our voice and power in democratic process and if eligible Nigerians are not allowed to vote because their fingers are dirty, or have health problems, or put to much make-up and other flimsy excuses that INEC and those involved in selling this beefcake equipment to us, then the 2011 general elections should be postponed to next year, to make out time to properly register every eligible Nigerian voter. Professor Jega, Nigerians want and demand a fair, free and credible election in April 2011 from you.
Dr. C. K. Ekeke is a theologian, author, consultant and leadership mentor.
Disclaimer:

"The views/contents expressed in this article are the sole responsibility of the author(s) and do not necessarily reflect those of The Nigerian Voice. The Nigerian Voice will not be responsible or liable for any inaccurate or incorrect statements contained in this article."
Articles by thewillnigeria.com