UN High Commissioner Wants Justice For Victims Of Jos Violence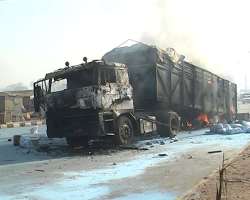 ABUJA, Jan 23, (THEWILL) - Following a petition by the Socio-Economic Rights and Accountability Project (SERAP), the UN High Commissioner for Human Rights, Ms Navi Pillay has disclosed that she has asked the Federal Government to ensure full justice to victims of Jos crises by prosecuting all those involved in visiting violence on innocent citizens in the state.
This information was contained in a letter addressed to Solicitor to SERAP, Femi Falana. The letter dated 21 January 2011 was signed on behalf of the High Commissioner by Mr Anders Kompass, Director of Field Operations and Technical Cooperation Division.
SERAP had said in the petition dated 13 January 2011 that "The international community cannot be silent when innocent civilians are caught up in violence such as the one going on in Jos. The international community must strive to deliver justice to victims of human rights violations wherever they occur and ensure that those found guilty of such crimes are held accountable for their actions."
In her reply to SERAP, Ms Pillay said that, "Thank you for your letter of 13 January 2011 addressed to the High Commissioner for Human Rights. I have also read the statement signed by [Adetokunbo Mumuni] the Executive Director of Socio-Economic Rights and Accountability Project (SERAP)."
"The High Commissioner has written to the Nigerian authorities urging them to make every effort to achieve security with full adherence to legality and respect for human rights. She has also expressed concern about reports of religious violence in Jos, which has resulted in death, injury and displacement and she extended her deepest sympathy to the families of the victims and wounded," Ms Pillay said.
Ms Pillay also said that she has "Stressed that it is important that every effort should be made to avoid excessive use of force, arbitrary arrest and detention and that the authorities should fully investigate all incidents of human rights violations and hold those responsible to account."
According to Ms Pillay, "While welcoming commitments to put in place a comprehensive security strategy to protect citizens and prevent incidents of religious and sectarian violence, the High Commissioner has urged the authorities to look beyond a military solution and seek to address the underlying causes of these repeated outbreaks of violence, such as poverty, the delivery of basic services and discrimination. In this respect, she has suggested that the way forward and the best proactive protection is to address the root causes of these recurrent inter-ethnic and inter-religious conflicts between various communities."
She also added that, "Civil society, including human rights NGOs, religious leaders and academic institutions should work with the local authorities and with the State Government. On the call for a special session of the Human Rights Council on Jos, Ms Pillay said that, "Regarding a possible special session of the Human Rights Council on Jos, such a discussion is the prerogative of the member states of the Human Rights Council. But we in the office of the High Commissioner for Human Rights will continue to engage with the authorities on the issues raised in your letter."
Earlier in its petition SERAP had said that it, "believes that it is the failure of the Nigerian Government to exercise due diligence that have resulted in the violations of human rights of citizens in Jos. Due diligence obligation requires the Nigerian Government to undertake measures to prevent abuses by state and non-state actors where possible, investigate violations that occur, prosecute the perpetrators as appropriate, and provide redress for victims."
SERAP also said that, "The Government of Nigeria has international legal obligations to respect the right to life; the right to security of the person; the right to freedom of residence; including not to be forcibly displaced; the right to property; the right to adequate housing; the right to adequate food and the right to water; and freedom from cruel and inhuman treatment. All of these internationally recognized human rights have been repeatedly violated in Jos on a widespread scale."
"Successive governments have failed to implement the country's international legal obligations to respect, protect, and fulfil the human rights of the people of Jos by persistently failing to deter and prevent recurring outbreaks of violence, and by failing to effectively investigate and prosecute suspected perpetrators", SERAP further said.