IJAW WARN LPV OVER ANTI-JONATHAN SENTIMENTS IN LAGOS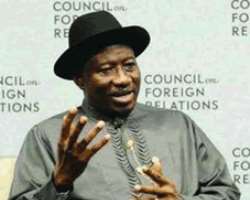 The Ijaw ethnic group has described as dangerous an attempt by a Lagos-based group to rake up negative sentiments against President Goodluck Jonathan in the state.
Chairman of the Lagos Peoples Vanguard (LPV), Mr. Sola Omoshola, last Saturday during a peaceful protest at the new domestic terminal of the Murtala Muhammed Airport in Lagos, alleged that the president was planning to destabilize the Action Congress of Nigeria (ACN) administration in the state to pave way for the ruling Peoples Democratic Party (PDP) to take over the state in the April general elections.
The group pointedly accused Jonathan of plotting to use some ethnic groups, particularly the Ijaw and Itsekiri residents in the state, to destabilize the administration of Governor Babatunde Fashola. Reacting to the development in a telephone interview yesterday, spokesperson of the ethnic group in the state and National Coordinator of the Ijaw Monitoring Group (IMG), Mr. Joseph Evah, said the allegation was not only satanic but also capable of causing unnecessary ethnic disaffection in the state.
Evah berated Mr Omoshola for trying to gain undue attention by whipping up ethnic sentiments against the president and the Ijaw, which he said was a peace-loving ethnic group. 'The alarm by a group, Lagos Peoples Vanguard, accusing President Goodluck Jonathan of planning to destabilize the administration of Governor Fashola is misleading and satanic. It is an attempt by its leader, Mr Sola Omoshola and his co-travellers to attract undue attention from Government House to get political favours.
'We condemn the so-called group for using the office of the president to seek political relevance in Alausa. The ethnic groups in Lagos belong to one indivisible Nigerian family. That was why during the last yuletide, bags of rice, salt, and other food items, were given out by the Ijaw Monitoring Group freely to all tribes without discrimination.
'Besides, the Lagos State Government has openly appreciated the effort of President Goodluck Jonathan to make the mega city dream a reality in the state,' Evah said. The IMG leader further noted that the president believes in the greatness and prosperity of Lagos and has continuously encouraged Fashola regardless of the fact that they do not belong to the same party.
'This was one of the reasons the Federal Government moved part of the country's 50th independence celebrations to Lagos by organizing the anniversary president's dinner in Lagos, which was attended by the state government as well as the first governor of the state, Brigadier Mobolaji Johnson, and other present and former leaders of the state,' he added.
Evah warned against dragging the Ijaw or any other ethnic group into such dangerous political trend introduced by the LPV, stating that the Fashola administration was widely accepted and that they had continued to cooperate with it.