FEMI OTEDOLA RELEASES ANOTHER ATOMIC BOMB DANGOTE'S PLOT AGAINST GOVERNOR FASHOLA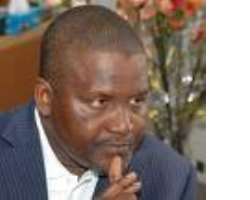 There appears to be no let up in the titanic battle between frontline Nigerian billionaires, Femi Otedola and Aliko Dangote, with the sensational disclosure by Otedola that his former ally turned foe, was involved in a high-level plot to scuttle Action Congress's (AC) victory in the governorship election in Lagos State in 2007. The April 21 election brought Governor Babatunde Raji Fashola to office.
Speaking in an exclusive interview via phone with National LIFE at the weekend from his overseas base, Otedola, who has been locked in a bitter feud with Dangote for some time now, revealed that the delay experienced in the release of the governorship election results in Lagos State after the April 21st election was as a result of the pressure mounted on INEC Chairman, Professor Maurice Iwu, by a lobby led by Dangote to declare it inconclusive rather than give victory to Fashola who was the clear winner. The results of the polls were not released until late Sunday (April 22).
AC's Fashola ran against Mr. Musiliu Obanikoro of Peoples Democratic Party (PDP) in the election.
The Zenon Oil and Gas boss claimed he went to Obasanjo's Ota Farm, Abeokuta, Ogun State that Sunday (a day after the election) and saw Dangote openly pester the former president to prevail on Iwu to declare the gubernatorial contest in Lagos 'inconclusive'. "I can still remember his words. He said 'Baba, we can't allow Bola Tinubu to take Lagos again. Tell the INEC Chairman, Maurice Iwu, to declare the election inconclusive.' That was what Dangote told Baba in Ota. I was there with him," said the Epe-born oil magnate.
According to Otedola, the argument whether to 'annul' or not Fashola's mandate between Obasanjo and Dangote lasted nearly five hours following signals that AC was comfortably leading the polls in Lagos.
Recalled Otedola: "The argument went on for about five hours. Aliko was practically begging Obasanjo to stop Fashola from being declared winner. He gave several reasons to support his plan. Obasanjo listened to him carefully but appeared unconvinced about the wisdom of the plot. Baba (Obasanjo) kept saying no to the plan but Dangote continued to pester him. They argued for a long while about it.
"At some point, Baba shouted at him saying, 'Shut up Aliko! You want to derail this democracy and spoil my legacy of civilian-to-civilian handing over of power? Don't you know that tampering with results of elections in Lagos will amount to setting the state of fire? Please, please spare me!' "
Asked if he was not speaking out of sour grapes in view of his frosty relationship with the sugar merchant, Otedola thundered back: "What! I am ready to appear anywhere to defend everything I'm saying. On that day in Ota, Fola Coker (an aide to the then Governor Bola Tinubu) kept calling me and sending text messages, warning that those of us close to Obasanjo should warn Baba not to play with fire by annulling Fashola's mandate.
"Well, I told him that I'm a Lagosian myself and will do everything to defend Lagos interest. If I'm lying, you can double-check this statement with Fola Coker. He is still alive today. I can also tell you that Wale Tinubu, who is Dangote's friend, was also calling and sending text to Aliko that day when we were at Ota with Baba. Wale kept telling Aliko, 'Aliko, we hear you're the one holding the release of Lagos election result. Please, in order to ensure peace in Lagos, let the results be released now and Fashola declared winner.' If I'm lying, contact Foli and Wale to double-check the facts.'" Both Fola Coker and Wale Tinubu could not be reached as at press time.
Still speaking on his erstwhile friend, Otedola boasted: "You know Aliko's attitude was that he has a lot of investment in Lagos and could not afford to have opposition take over Lagos again. Quote me, he funded Musiliu (Obanikoro) of PDP heavily." Speaking further on the 2007 governorship election in Lagos, Otedola said information later reached them in the evening at Obasanjo's Ota Farms that AC supporters had mobilized and stormed the Yaba office of INEC in protest against the delay in the release of the results.
"We gathered through intelligence sources that they were chanting war songs and threatening to burn down the whole of Lagos if INEC tampered with the results."
The Zenon boss also spoke on the reported crack-down on his media consultants and newspaper vendors in some parts of the country by the police over an interview he granted a Lagos-based weekly publication, Facts Magazine.
While condemning the "police harassment", Otedola reaffirmed the statements credited to him in the controversial interview: "I have heard of series of arrests and victimization of vendors over the interview I granted to Facts magazine. I'm told lots of Nigerians have also been visiting Facts magazine on www.factsnigeria.com. I'm using this opportunity to tell the whole world that I stand by every word in that interview. They are all truths backed with facts. In fact, tell Nigerians that I am ready to come out publicly and testify on every claim I made in that interview."
The Zenon boss added that Dangote had lived in his Abuja home for almost six years and as such he (Otedola) knows the cement merchant like the palm of his hand, affirming that everything he said about Dangote were "nothing but facts." "I know Aliko very well. He had lived in my house for six years. So, everything thing I said about him are nothing but the truth. He cannot deny them himself."
Already, the months-long titanic battle between the duo, listed in Forbes magazine's rich list as the richest Africans', has taken an e-dimension as the publishers of FACT Magazine, which ran the controversial interview, are now using GSM service providers to send highlights of that interview with Otedola to millions of numerous subscribers.
It would be recalled that the two business moguls have engaged themselves in a bitter row over the purchase of Chevron/Texaco shares.
The feud came to a head when Otedola through one of his firms, African Petroleum (AP), petitioned the Economic and Financial Crimes Commission (EFCC), accusing Dangote of using his firm, Novas Securities, to crash AP shares on the Nigerian Stock Exchange.
Dangote was reportedly quizzed by the EFCC on account of that petition.
Not long after, some advertorials accusing Otedola of manipulating Dangote shares also surfaced. Penultimate week, Prize Communications, a media consultant to Otedola's business interests was dragged before a Lagos court on a four-count charge of libel, defamation and likely breach of peace, by the police at Dangote's instance over the Facts Magazine publication.
Dangote had complained that the publication damaged his person and businesses. Last week, he similarly instituted a N1billion suit against National LIFE for publishing materials he considered "injurious" to him.
When National LIFE got across to the Head, Corporate Affairs of the Dangote Group, Joseph Okoma, he dismissed the allegations as tissue of lies.
According to him, "whoever said that is a blatant liar. The election in Lagos was never in contention to warrant Alhaji Dangote's interference. The likes of Nduka Obaigbena (Publisher, ThisDay Newspaper) can confirm that Alhaji contributed immensely to Fasshola's victory in 2007."
|
Article source