THE AMAZING SKILL OF A LOCAL WELDER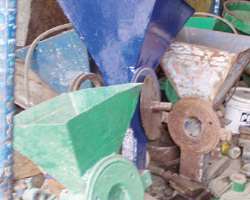 By Daniel Alfred
Certain businesses will continue to add value to the well-being of humanity despite their conceptualisation by individuals. Welding business is one of such businesses.
For those who still commonise the practice, the Nigerian Institute of Welding, a non-governmental organisation and a part of the global body of professionals working towards the development and advancement of global and national industrial advancement through welding technology has vowed to bring back the dignity of its practitioners and as well make welding a respectable job for all who want to make a career in the field.
It is obvious that so many in the practice do not understand the  importance of their job to the society. In other words, the association has in addition  provided a functional platform for self expression, contribution towards technological advancement, support for professional career development and connection to opportunities. Unfortunately, many of the practitioners have been kept in the dark due to their lack of formal education.
In the case of Felix Akanbi  Ajose, a practicing welder and a father of three, who hails from Ado Odo Local Government Area of Ogun State, welding has been a lifestyle for him and he has used it in catering for the well being of his family.
According to Ajose who describes  the business as a very lucrative one and being what it is, it's no doubt of great importance in the lives of everyone. 'I thank God for the business, though there are lots of  problems involved here and there, electricity and the inconvenience of the environment in particular. For me, I construct big machines using iron of various kinds. I do a lot of iron works.
I also construct machines for grinding and the like. The government is not helping matters at all because for us who practice at the local level, we depend on generator for electricity, while we keep praying for  light  to come. At least that will help us save some cost.
The job is very lucrative and that is one thing so many people do not understand. But the government has succeeded in paralyzing the job for us, having  failed to provide a stable power supply in the country.
'We thank God there is an alternative that keeps sustaining us. It is really a  profitable job because you cannot do without iron. We use iron in most of our jobs and in our day-to-day activities. Look at the tri-cycle here, popularly known as Keke Marwa, I am making a threading for one of  it for the tricycle's bolts and that is part of the job.'
http://www.vanguardngr.com/wp-content/uploads/2011/01/welder1.jpg Felix Akanbi Ajose, a practicing welder
He also did not hesitate to share his experience on how he got into the job. He added that though he wasn't born with a silver spoon and never had a smooth background while growing up, he will never stop thanking God for the difference He has made  in his life, making him great among his folks.
'When I finished my secondary education, I proceeded to Chapular Nigeria Limited at Mafoluku Oshodi then to learn work on this same welding. I was there for some years, when I decided to pick a part-time form in YABATECH but because of the financial predicament  in this country, I couldn't finish. So, I started struggling here and there and by the grace of God, he proved himself to be God indeed.
'When you talk about education and its system, we all cannot do a white collar job and as I am talking to you now, I have my OND. I am not interested in working for any company and have never wished to. I still would want to further  my education, atleast to the level of first degree by the grace of God,' he said.
'Passion is one thing that has driven me into this job and that is what I have been doing and wish to do all my life not minding all the ills in the business. I still find it pleasurable being in the business. Whatever you want to do in this life, you must be passionate about it and the interest must keep burning. All I am asking God is to help me buy my own machines so that passers-by can see what is happening here and what I have to offer,' he said.