N232BN STATUTORY ALLOCATION BRINGS DOWN RATES BY 23 PER CENT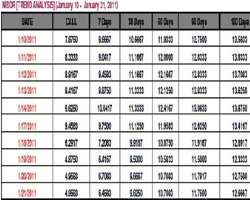 Interbank interest rate fell on the average by 23 per cent last week following inflow of N232 statutory allocations to the three tiers of government. The naira also appreciated by 98.75 kobo in the interbank foreign exchange rate owing to improved supply from autonomous sources.
INTEREST RATES
As expected by the market, interbank interest rate fell through the week due to inflow of N232.9 billion statutory allocations to the three tiers of government, and N30 billion due to maturity of sovereign debt notes to oil marketers by the Federal Government. Consequently, interest rate on Call lending fell by 48 per cent to 4.95 from 9.45 per cent the previous week.
Seven Days lending fell by 35.5 per cent to 6.45 from 10.04 per cent, 30 Days lending fell by 16 per cent to 9.62 per cent, 60 Days lending fell by 13.7 per cent to 10.7 per cent, 90 Days lending fell by 9.6 per cent to 11.75 per cent, 180 Days lending fell by 7.1 per cent to 12.88 while 365 Days Lending fell by 7.6 per cent to 13.5 per cent.
EXCHANGE RATE
Last week was relatively good for the naira as it appreciated significantly in the various segments of the foreign exchange market with the exception of the official segment.
At the official market, despite 22 per cent decline in foreign exchange demand, the naira depreciated by 29 kobo. At the first foreign exchange auction on Monday, demand dropped by 14.9 per cent to $394.56 million but the exchange rate rose to N150.31 per dollar from N150.01 per dollar the previous week. At the second auction on Wednesday, demand dropped again by 21.4 per cent to $309.97 million, while the exchange rate dropped to N150.30 per dollar. The apex bank sold $300 million on each occasion hence total amount sold for the week was $600 million while total demand was $704.53 million.
At the interbank market, foreign exchange supply from oil firms prompted decline in the interbank rate and hence the naira appreciated by 98.75 kobo during the week as the interbank exchange rate closed at N152.715 per dollar, down from N153.7025 per dollar the previous week.
On Monday, the interbank exchange rate fell by 10.25 kobo to N150.6, on Tuesday it fell by 98.5 kobo to N152.615, on Wednesday it fell  by 14 kobo to N152.475, but on Thursday it rose by 24.75 kobo to N152.725, only to drop by 0.75 kobo to N152.715 per dollar on Friday.
EURO BOND RECORDS 250 % OVERSUBSCRIPTION
Despite concerns and anxiety about timing and the decline in the nation's external reserves, Nigeria's $500 million debut Euro bond was finally  floated on Friday with a yield of 7.0 per cent, and it was heavily oversubscribed by 250 per cent.
Agency reports stated that the offer has been oversubscribed 2.5 times to about $1.25 billion,' a source close to the deal told Reuters. The 10-year bond was priced in line with Nigeria's 7.0 per cent guidance and will pay a 6.75 per cent coupon, with settlement on Jan. 28.
The pricing means investors demanded a premium to West African peer Ghana, whose 8.5 per cent Eurobond due  is currently yielding around 6.2 per cent. Fitch assigned the issue a 'BB' rating on Friday, saying low debt ratios and robust growth played in Nigeria's favour, but also noting concern about a decline in reserves last year despite a rise in oil prices and production.'Reserves have risen around $1 billion since the end of 2010, but in the absence of fundamental institutional reforms on the usage of oil revenues and savings, this gradual build-up is unlikely to be sustained,' Fitch said.
RESCUED BANKS TO SIGN MoU WITH CORE INVESTORS NEXT MONTH
Four of the eight rescued banks will sign memorandum of understanding with core investors next month.
Governor, Central Bank of Nigeria, Mallam Sanusi Lamido Sanusi, dropped this hint while speaking at his investiture as 'Man of the Year Award' by Tribune Newspapers.
He hinted that 'in the next few weeks, at least four of  the rescued banks would have concluded their MOUs, signalling the final stage of their recapitalisation to be concluded by the first half of this year.
The Governor added that in the new year, CBN will focus on improving lending to agricultural sector, while paying special attention to diversifying product offering and contributing to the development of non-interest banks in Nigeria. The bank will also be focussing on shared services to improve cost of doing business in the Nigerian banking sector.
Meanwhile, the Chairman, African Newspapers PLC and the matriarch of Awolowo dynasty, Chief (Mrs) Hannah Idowu Dideolu Awolowo, CON, Yeye O'dua has described the Governor, Central Bank of Nigeria, Mallam Sanusi Lamido Sanusi, CON, as a distinguished public officer who ''has chosen to bring the difference in discharging his assigned duties and making positive changes in our national life'.
Chief (Mrs) Awolowo who was represented by her daughter, Rev. (Mrs.) Omotola Oyedira, in a glowing tribute, stated that the award is in recognition of 'very impressive and courageous policies' which Mallam Sanusi has been implementing at the CBN.
FDI INTO NIGERIA FALLS $2.3BN
Nigeria' foreign direct investment (FDI) inflows fell from six billion dollars in 2009 to $2.3 billion  in 2010, a new UN report says. The fall represents a 60.4 per cent decline. The latest UN Conference on Trade and Development (UNCTAD) Global Investment Trends Monitor (GITD) was released at the UN office in Geneva.  The report notes that inflows into Africa, which peaked in 2008, is on the decline, despite an increase in developing and transition economies, which rose by 10 per cent in 2010.
'Estimates show that FDI inflows in the continent fell by 14 per cent to $50 billion  in 2010, although there are significant regional variations,' the report stated.
According to the report, cross-border mergers and acquisitions, an increasingly important mode of entry into developing countries, increased in Nigeria from 0.2 per cent in 2009 to 0.4 in 2010. 'India's Bharti Airtel's acquisition of the African mobile phone network, Zain Africa, for 10.7 billion dollars in 2010, was not reported as an addition to FDI flows into Africa or Nigeria, since it is only a change of ownership,' it noted.
Nigeria's communications sector, which attracted $15 billion in the last nine years, is the second largest source for FDIs in the country, after the oil and gas sector. The UNCTAD report, which also highlighted decline in FDIs in South Africa, notes that developing and transition economies, for the first time, accounted for more than half of the global FDI inflows in 2010. The report showed that global inflows of FDI rose marginally by one per cent from $1.1 trillion dollars in 2009 to almost $1. 112 trillion.
MICROFINANCE  CONFERENCE & AWARDS
The annual microfinance conference and entrepreneurship awards was held in Abuja. The CBN Governor, Mallam Lamido Sanusi harped on the importance of financial inclusion of the 70 per cent Nigerians living below the poverty line. He said: 'The number of people living below the poverty line is 70 per cent. In Nigeria, 46.3 per cent of the population are financially excluded and this is primarily because of the low bank penetration. 'For instance, the 24 commercial banks have 5,789 branches as at September 2010.
When you add the 816 microfinance banks to this number, you have 6,605 bank branches. 'But with a population of over 150 million, you have a situation whereby 22,710 people are served by a branch, and there are higher the ratios in rural areas where there is absolute dearth of depositories.'  At the conference thirty-five Nigerian micro-entrepreneurs were declared winners at the 2010 Citi Micro-Entrepreneurship Awards held during the conference.
Sanusi.
Fifteen winners received cash prizes at a gala dinner honouring leading micro entrepreneurs in the country. The awards were handed out in five major categories - Best Micro Business Model, Most Marketed Product, Most Innovative Product, Employment Generation and Best Female Entrepreneur - and presented to winners by Mr. Tunde Lemo, CBN Deputy Director in charge Operations, Mr. Joe Alegiuno, CBN Deputy Director for Development Finance, Mr. Baba Kulloma, Vice President and Senior Public Sector Banker, Citibank; and Dr. Ndidi Nnoli-Edozie,  Founder of GBF.
Three cash prizes were awarded in each category - a winner and 1st and 2nd runner up. The winner in each category received a cash award of N250,000 (Naira), awarded jointly by Citi and CBN, and runner-up cash prizes of N200,000 and N100,000 were awarded to the 1st and 2nd runner-up respectively, awarded by Citi. Additionally, consolations prizes of N 60,000 each were also awarded to fourteen other entrepreneurs.
The winners were nominated by their local Microfinance Institutions (MFIs).