Cameroonian queen hooks Suni Osorun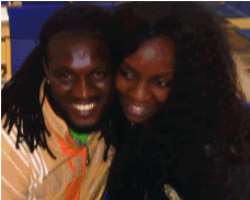 Suni Osorun and Christine Tientcheu
Wedding bells are ringing for showbiz impresario, Suni Osorun. The music-cum-film producer is set to wed Cameroonian beauty queen, Christine Tientcheu.
Blockbuster learnt that US-based Suni, who has been linked to different top society babes in Lagos, recently met British-born Christine, who's current Miss Cameroon, and since then there's no looking back.
According to a reliable source, the talk-of-the-town wedding will come up any time this year. 'They are madly in love with each other. Already, the girl is busy shopping for her wedding dress, while Suni is putting finishing touches to the arrangements. The wedding ceremony may happen here in Lagos or America.'
Meanwhile, Suni's new film, Street Money would soon hit the cinemas in the United States and Nigeria. Shot in locations including the United States, London, Canada, Jamaica and Jos, Plateau State, the movie features international music stars like Tyrese, The Game, Wyclef Jean and Suni himself.
Produced by Suni's Blackwall Street Productions in conjunction with Universal Pictures, Street Money tells the story of four guys who grew up in different rural areas but became friends until they all got married, and went their different ways. The flick is bound to up the ante of Nollywood.