Auto crash almost turned me to a monster -Eryca Freemantle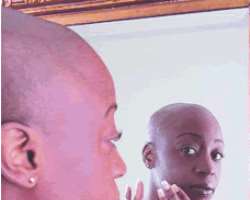 Eryca
Eryca Freemantle is a UK-based beauty enthusiast. At 22 she was signed up for fashion shoots when she was hit by a car at a Brixton petrol station. The near fatal car accident caused her over 200 scars to her face, loss of hair and a near amputation of her left leg. 'I could not leave my house for three years.I didn't look at my face for 18 months. It took three years to walk properly. I was a prisoner in my house and was living with my parents and they were not happy'. After being told that she would probably not be able to walk again, she was determined to prove everyone wrong. 'My life changed in that split second,' she said. 'I had to pull myself together and say, ok, so you won't be a model but you know all about beauty so put it to good use'.'
Sheer motivation and determination enabled her to fight the fight every single day of her life. She refused to be beaten. She was told that her dream of becoming a model would be longer. 'It was traumatic. I couldn't read nor write. I was a class clown and could not amount to anything. I was extremely ugly and as a little girl I never wanted to hear that. It is a word that should be deleted from the dictionary. It is damaging.
This motivated her to learn about corrective make-up techniques and applications to camouflage facial blemishes and scarring. Accepting she could not pursue modelling, she decided to become a make-up artist.
Her story is an amazing and inspirational one. Her positive attitude towards life encouraged her determination to proceed and be successful. It was her motivation that gave her the courage to embrace her beauty and at a time of such low self-esteem. She had to make and design her own make-up, to disguise her scarred face including mud.
Today, Eryca is an acclaimed make-up artist and industry expert. She has researched the make-up artist industry intensely, travelling the globe, looking at trends and predictions. Through her research she was able to identify that she had something unique and very much in demand to offer, slightly more than the average make up artist. She had specialist industry knowledge combined with traumatic experiences, which is why she is known as a 'survivor.' Eryca recognised that there was and there is still a niche in the market of make-up artistry that has been neglected. The area of African women, Asian Oriental, Arabic, Mediterranean, and European, which she thought is still untapped. Therefore, she has armed herself with profound knowledge, educated herself technically and culturally to develop an understanding of this diverse target markets.
Eryca is an industry intelligent consultant for renowned cosmetics and make-up brands worldwide. She also offers advice on technical information such as product contents, trends, predictions, colours and themes. Her contribution to the African beauty industry comes from her rich experience and diverse talent. She teaches women about make-up and establishes relations between them and their make-up through a series of workshops with top establishments globally.
Wanting to learn how to camouflage facial blemishes, she enrolled at the Complexion School of Make-Up in Holborn, taking a teaching course before landing a job at the London College of Fashion. Approaching 50, a mother of one and based in Beckenham, she has been teaching make-up artistry for more than 20 years. She has her own school, Face The Facts, a make-up school established in 2003, where classes include techniques for disguising disfigurement are available. She has worked for fashion magazines, on films and music videos and at leading catwalk shows and offers private classes at the London College of Fashion.
Clients also include Yasmin Le Bon, Michael Jackson, Celebrity clients have included Seal, Yasmin Le Bon, Whitney Houston, Soul II Soul, Mica Paris and Seal who has extensive facial scarring from the illness lupus.
She is the Patron of VISTAF Vitiligo Support and Awareness Foundation, West Africa and a qualified Paramedical and Camouflage Corrective Specialist with the British Association of Skin Care. She is an award-winning celebrity and international make-up artist, industry intelligence, consultant, educator, author, corrective make-up specialist, trend setter, key note and motivational speaker. Eryca motivates, encourages, unites and emotionally lifts people of all ages and genders. Eryca Freemantle sits on the board of Panel of Experts at London College of Fashion, one of the most prestigious establishments in the world. She is an ambassador for Mark your Mark and a member of Cosmetic Executive Women (CEW). She has a glamorous approach to fashion, photography, beauty and corrective make-up. She is an acclaimed specialist and is commended by her colleagues in the industry all over the world. She is an industry expert hand picked for Virgin Media Pioneers. Eryca is a member of British Association of Beauty Therapy and Cosmetology (BABTAC) and a member of The Guild Of Professional Beauty. Her courses and workshops are accredited by both bodies. She is currently Beauty Columnist for The Guardian Life Magazine Nigeria. Her column, Skin Deep is very popular. She is a keynote speaker for Professional Beauty Show South Africa.
Eryca is an internationally known celebrity make-up artist and works with individuals and organizations of a very high calibre. Eryca has been in the industry for over 25years. Firstly as a model, then a make-up artist, which later progressed into her being labelled as an international make-up artist.
When looking for a keynote speaker that will stand out among the crowd, Eryca Freemantle is the woman for you. As a keynote speaker, she is uplifting, inspirational and is an acclaimed leader in her field. She has worked with choice keynote speakers from around the world. She was invited to deliver a speech when Dame Patience Goodluck Jonathan, Nigeria's first lady, visited Rivers State last year.
Her extensive make-up portfolio of advertorial, editorial and exhibition work has been featured in a variety of publications including British Vogue, Elle, Essence, The Face, I-D, Best magazine, Ms London and numerous other fashion magazines. Eryca creates innovative make-up artistry that has seen her continually commissioned by the BBC, ITV, Toni & Guy, Wella, Island Records, EMI and Kodak. Her work also includes feature films, catwalk shows, photographic shoots for fashion spreads, TV commercials, music videos and most genres within the media spectrum.
She is not just a make-up artist, but also a successful business woman in her own right.
She has been teaching make-up artistry for over 20 years.
Her mission is to continue teaching and training women worldwide. Ms Freemantle often attends and participates many beauty and make-up exhibitions, including The Vitality Show at Earls Court, London.
When it comes to creating a natural look, her reputation for artistry and imagination has brought her an enormous amount of respect among some of the most talented names within the beauty industry. It was here that Eryca was chosen to work and assist other top make-up stylist for the Motown Pepsi Soul by the Sea Concert at the prestigious Wyndham Rose Hall Beach Hotel in Montego Bay. Here she had the honour of working with music industry legends from the Motown record stables. When she is not teaching, she often can be seen working on up and coming pop videos editorials and commercials.
In 2006, she decided to relaunch Face the Facts, channelling her experience into services, for the professional industry. She designed new courses; she contracted industry experts, to develop courses that would cover the entire spectrum of conventional make-up. With the industry supporting her efforts, she now has courses for international and the national markets.
Eryca's words of wisdom, experience and expertise, have touched and changed the lives of many. Her keynote speaking and motivational talks have taken her from UK and beyond. 'I have always told people to live their dreams. Don't let anybody pull you down. Determination is important', she said.