Jonathan Urged To Cut Government Costs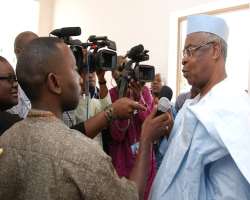 PHOTO: GENERAL THEOPHILUS DANJUMA SPEAKING TO REPORTERS AT THE PRESIDENTIAL VILLA IN ABUJA TODAY, JANUARY 20,2010.
Nigerian President Goodluck Jonathan's top advisers on Thursday urged him to cut the rising cost of government by merging ministries and agencies, freeing up funds for development projects.
Diplomats and analysts have grown increasingly concerned about the state of Nigeria's public finances in the run-up to nationwide elections in April, particularly the amount of money the nation spends just to keep government running.
Theophilus Danjuma, a retired general and former defence minister who heads an advisory panel of prominent politicians and economists advising Jonathan, described the rising cost of government and falling capital spending as "unacceptable".
"We advised government to reduce the number of ministries and where some ministries and parastatals have overlapping functions, they should be rationalised," he told reporters.
Jonathan presented a 4.2 trillion naira ($28 billion) budget proposal for 2011 to parliament last month, saying it represented a sharp reduction in approved spending for 2010.
But more than 3.2 trillion naira of that figure was earmarked for recurrent expenditure, statutory transfers -- which include payments to institutions such as the judiciary -- and debt servicing.
That leaves less than 1 trillion naira for capital expenditure, meaning sub-Saharan Africa's second-biggest economy is spending far more on government than it is investing in badly needed infrastructure and other capital projects.
Finance Minister Olusegun Aganga set up a committee last September to review recurrent expenditure and has said cuts have already been made. Danjuma acknowledged government had started to address the concerns.
But there is considerable political resistance.
Aganga and Central Bank Governor Lamido Sanusi were summoned in December to explain themselves to lawmakers enraged by comments suggesting they were overpaid.
Parliamentarians' salaries are not made public but diplomats say they are among the best paid in the world, yet just 16 bills have been passed by both houses in the past two-and-a-half years, according to Nigeria's Policy and Legal Advocacy Centre.