Microsoft explains Windows phone 7 'phantom data'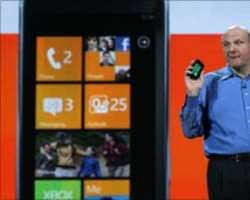 The software was seen as the firm's first credible challenge to other phone systems
Microsoft has confirmed that some handsets running its Windows Phone 7 software are sending and receiving "phantom data".
Earlier this year, users complained on net forums that their phones were automatically eating into their monthly data plans without their knowledge.
Microsoft said its investigation found that most problems were caused by a unnamed "third party" service.
However, it said it was still looking into other potential faults.
"We are in contact with the third party to assist them in making the necessary fixes," a spokesperson said.
The firm also said that it was looking into "potential workarounds" until the issue was solved.
"At this point in our investigation, we believe this is responsible for most of the reported incidents.
It said that the problem seemed to only affect "a small (low single-digit) percentage of Windows Phone customers".
'Root cause'
The problem surfaced in early January with some owners of phones running Windows Phone 7, claiming that their phone was sending "between 30 and 50MB of data" every day; an amount that would eat into a 1GB allowance in 20 days.
Most complainants were based in the US.
"I received an e-mail from AT&T saying that I was close to my 2GB data limit which truly shocked me as I feel I do not use data that much," a phone owner called Julie told Paul Thurrott's supersite for Windows.
"I went and looked at my AT&T account online and noticed that my phone was sending huge chunks of data seemingly in patterns."
Another, writing on Howard Forums, said that they had noticed that the phone's "idle data usage is around 2-5MB per hour".
Microsoft has admitted that not all problems may have the same root cause and has said it was still "investigating" other potential reasons for the fault.
"We are continuing to investigate this issue and will update with additional information and guidance as it becomes available," the spokesperson said.
Windows Phone 7 was launched in October 2010 to acclaim by manufacturers and users.
It is considered the company's first credible challenge to rival operating systems from Apple, Google, Research in Motion and Nokia.