I have no hand in Nwodo's sack...He had enough trouble of his own says Atiku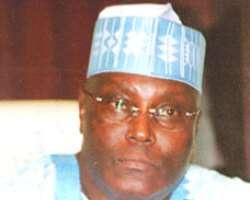 Abubakar Atiku
Former Vice President, Atiku Abubakar, on Tuesday night in Abuja said he had no hand in the exit of the former PDP National Chairman, Okwesilieze Nwodo.
The Atiku Campaign Organisation which maintained that Nwodo was a direct victim of what it called Nwodo's insincerity, double standard, opportunism, selfishness and mischief, said "The erstwhile Chairman delivered the convention to the President but they still went on baying for his blood. That tells you there was more to it than the eye could see. Someone wants blood and you give him palm oil. Does that satisfy him?" the statement asked.
According to the Atiku camp, the former PDP Chairman did everything to frustrate his presidential ambition by making impossible a meeting intended to discuss the modalities of how the January 15, 2011 convention. He alleged that for over two months, Nwodo did not agree to meet, or even answer phone calls.
"Nwodo frustrated every meeting his campaign organization had requested to discuss serious issues that border on free and fair elections, especially the need to create a level-playing ground in which no delegate would feel constrained or intimidated to choose their preferred candidate. It is clear that the former Chairman had enough home troubles to contend with," Atiku maintained.