How relevant are China phones now?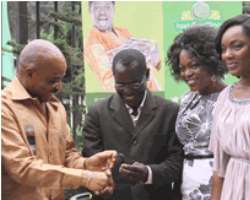 L-R: Mr. Adewale Sangowawa, Globacom's Executive Director, Human Resources, handing over the keys to a brand new 3.5 litre Toyota Venza SUV to Mr. Anthony Ndokule, winner of the first monthly SUV prize in the Glo 'text4millions' promo. With them are Glo ambassadors, Funke Akindele and Chioma Chukwuka-Akpotha.
A couple of years ago,Asian tigers dominated the mobile phone business manufacturing imitation version of high end popular brands of phones at cheaper prices. Many Nigerians were much happy especially because most of these phones were dual subscriber identity module (SIM) and easier for them instead of carrying more than two phones. These phones ,recorded high sales and popularity especially at the Computer Village, Ikeja and other sub IT market in the country.
However, it appeared that brands like Nokia, Samsung, LG and Motorola are no longer taking things for granted as they have also devised means of re-integrating their brands into the almost stifled and saturated Chinese phones market.
Critics noted that what made China phones to thrive then was because many Nigerians were and are still in love with 'big phones' ,(high end phones) but could not afford their prices.
They hinted that since Nokia, Samsung and the rest have reclaimed their positions and have started manufacturing low end phones with similar features, many phone users would abandon their various Chinese models to stick with the originals.
Jumoke Maciver, one of them explained that one of the reasons many Nigerians resorts to purchasing and owning Chinese phones was because of their affordability, coupled with the fact that they have similar and functional features of their imitated high end versions.
'It is not that Chinese phones are not good but their battery shelf life is nothing to write home about.Most often than not, users still go out of their ways to get original battery for their phones. It is unlikely that Chinese phones would gain dominance in 2011 because most of the popular brands have gone back to the drawing boards to churn out new, cheaper and attractive models on weekly basis.
'We should partly blame some Nigerians for allowing the Chinese to exploit their weakness of preferring quantity things. If the truth be told, when you use most of these phones to either make or receive calls, at a point they get extremely hot and within a short time, their batteries are down. Users, have no options than to charge batteries on daily basis.
Bayo Olaleye, a customer noted that there would be a great disparity between popular brands and Chinese phone. He explained that popular brands are no longer jostling in brand war but to ensure that Chinese phones manufacturing have low patronage this year. Adding that manufacturers of various brands have redefined their brands to accommodate every body irrespective of the social status.
He also hinted that a particular Chinese brand that almost upstage Nokia, Samsung and LG leveraged on affordability and a bit of durability.
' Unfortunately,its manufacturer failed to get some software right because most of them malfunctions and even keys on the phones easily come off,which ought not suppose to be.