KAITA IN VISA HITCH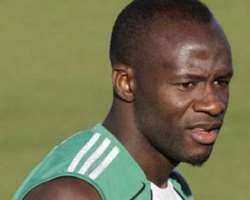 Nigeria international Sani Kaita's arrival in Greece may have been delayed by visa problems.
Kaita is set to begin a six_month loan deal with Greek club Iraklis, but a top source revealed that he has encountered problems at the Greece embassy in Nigeria, where he has applied for an entry visa.
Sani Kaita
However, one of Kaita's handlers, Tijjani Babangida, informed MTNFootball.com that Kaita will most likely arrive Greece this today after a short holiday in Egypt.
'The whole contract with Iraklis has been signed but Kaita is still in Egypt on holidays, but he should be back to Nigeria in time to get his visa in Abuja and then leave for Greece,' Babangida said.
Kaita has agreed a six_month loan switch to Iraklis from French club Monaco.
'It's a good move for him because he would be back playing regularly so as to stake his claim for a place in the Nigeria national team,' remarked former international Babangida.