Why Atiku attacked Jonathan at Convention...Switched speech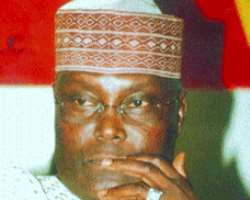 Abubakar Atiku
Few days before the convention, Atiku Abubakar did not intend to attack President Goodluck Jonathan in his convention speech, but changed his mind few hours to the event, Pointblanknews.com has learnt.
The former Vice President is expected to hold a high level meeting with associates and stakeholders on Monday. The meeting was moved from Saturday for undisclosed reasons. A top aide, Dr Deolu Akande confirmed the shift in Abuja Saturday night.
Pointblanknews.com learnt that few hours before the convention, Atiku ditched his original speech titled Dear Delegates and published in all the national dailies on January 12. In that speech, Atiku simply outlined his vision and prevailed on delegates to vote the right candidate, which he said was him.
But the frustration he and his men encountered the previous night when the Governors prevented him from meeting the delegates, coupled with the voting and counting procedure adopted on the convention day, the Turaki Adamawa kitchen cabinet decided to personally attack Jonathan.
Said our source" the original speech wasn't combative, it's the one that was published on the 12the of January where he merely urged the delegates to do the right thing. But when that morning they realized the Jonathan's camp with solid backing from the Governors had altered the equation, the Atiku's camp decided to go on the offensive"
On the eve of the convention, Atiku and his men were fenced from seeing the delegates. The delegates where late that night housed at the various Governors lodges, while the states without PDP Governors were moved to the homes of ministers.
On the morning of the convention, the Atiku were shocked to find out that the convention committee had decided to not only adopt the state by state voting but also the state by state voting.
The procedure ensured each aspirant knew which state voted and which did not. This arrangement did not favor the Atiku camp. That morning two of his aides, Udenta Udenta and Garba Shehu had expressed frustration at the procedure.
 
Pointblanknews.com learnt that the Jonathan's camp had been making overtures at the vanquished. The President had declared the outcome no victor no vanquished .
The meeting between Atiku and his close allies is expected to take a close at the result and figure out options. Three associates of Atiku , Yahaya Kwande, Dubem Onyia and Lawal kaita, had approached an Abuja High Court and sought to stop Jonathna citing the zoning arrangement.
But Justice Ishaq Bello had said " there is no allegation of breach of Article 7
2(c), sine no primaries have been conducted and no one had been presented as the 1st defendant's (PDP) candidate"
This part of the ruling, pointblanknews.com learnt is being studied closely. They may want to approach the court again, since there are sufficient grounds based on Justice Bello's ruling.