PICS: DAKORE EGDUSON WEDS OLUMIDE!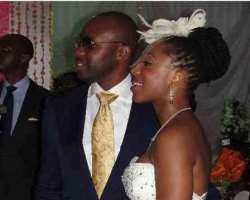 At last! pix! For those of you that wanted to catch a glimpse of the latest couple in town, here's it is! Nollywood star actress, Dakore Egbuson got last weekend in what must be the most anticipated wedding of the year! And what an event it was! The bride looking so radiant, pretty and happy walked down the aisle with one of Nigeria's most eligible bachelors , I guess many hearts were broken on both sides! lol!
During the reception, Olu surprised Dakore by organising an impropmtu appearance of Soulful artist Bez who serenaded Dakore to some choice love songs!