Akpabio wins Akwa Ibom PDP governorship primary again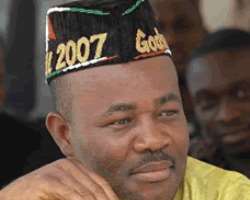 Governor Godswill Akpabio has once again won the PDP gubernatorial primaries, which re-run was ordered for Saturday after one of the contestants, Mr Frank Okon, complained against last Sunday's primaries which Akpabio won.
At the previous primaries where Okon and another aspirant were said to have been disqualified, Akpabio had polled a total of 1251 votes out of the total of 1261 votes cast.
But in the re-run on Saturday at Uyo township stadium, Akpabio polled 1272 votes, Imo Udo scored one while Frank Okon got no vote. In accepting his nomination, Akpabio said the victory was a long-awaited one for the people of Akwa Ibom State who had earlier spoken that let God's will be done again in the state.
He said he accepted the victory on a no-victor no-vanquished pedestal since he was writing for his opponents to approach him with proposal on how to move the party forward, especially in the campaigns toward the general election.
The governor said his election would usher in more development in the state, which he described as 'huge construction site' because of his administration's development strides. He added that his re-election would ensure the completion of ongoing projects as well as bring about industrial revolution to the state.
Our correspondent however learnt that Frank Okon had earlier obtained a court injunction to restrain the party from conducting the re-run primaries.