I'm most maligned by fellow preachers –T.B. Joshua .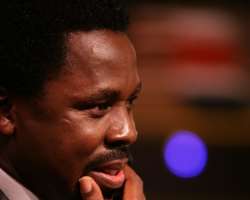 Prophet T.B. Joshua is the founder and spiritual head of Synagogue Church Of All Nations (SCOAN). He is such an enigmatic personality that people are often confused on who really he is. But regardless of opinions, the Synagogue leader is well known for prediction and prophecy. In this interview with SEGUN OTOKITI, he spoke on his experience of persecution and condemnation at the hands of fellow preachers of the word, the state of the nation, what to expect from the forthcoming general elections, among other issues.
You have at various times had to battle with accusations and condemnation over the form of your Christian faith, healing method, source of your healing power, relationship with female members of your church among others. What do you say of the accusations?
The various accusations I have faced have really helped my spiritual life. I believe if all have been praises, praises, without condemnation, that will not help me. The condemnation and rebuke makes me to be closer to God and keeps me seeking the face of God the more. It makes me pray the more, fast the more and do the things of God the more. I think it's a blessing; I regard it as a blessing. At least everything has been well. I want to thank those who in the past God were used to condemning me. Sometimes God uses foolish things to express himself. What I mean by foolish things is condemnation.
God uses these condemnations to prepare us for the challenges ahead. God uses some trails to take us to a new level in life; sometimes using it to slow us down in life. At least we have many people who go to prison and come back becoming great in life. We have Joseph who left his father's house, served as servant, went to jail and rose to the throne. All these challenges have not affected me negatively, rather it has improved me greatly.
Each time the condemnation comes, I know something great is about to happen. So it's a blessing. I see those who have been condemning me as friends. I want to say to everyone that God is just not a beginner but a finisher. You need to look inward and check what you are doing today and ask if you will be able to do it tomorrow or do better? So you can begin to ask for more strength from God. It will be too soon for anyone to say "I have arrived ". No, the journey continues. I want to say to you: Thank you very much. In the book of Mathew 5, the Bible says "love your neighbour as yourself." Our neighbour could be our enemies or those who do not share the same faith with us. We should love them all. We are all known by our love. If you have that kind of love you will not need to ask if someone is a Muslim or a Christian before you extend your love. No one can change anyone, we preach the gospel but God makes it work.
We are in a new year, what prophesies do you have for the nation?
it is too soon to tell people prophecies.
Christmas just passed, what does Christmas mean to you?
It's love. We should love our neighbour, I have said it all. Love was born at Christmas .Faithfulness was born at Christmas. Kindness was born at Christmas. The fruit of the spirit was all born at Christmas. There is no way we can express Christmas than to say the love was born at Christmas. We should dedicate ourselves to the service of God, live and love our neighbours.
What are your expectations for the 2011 elections?
The only prayer I offer is that God should make April real, because there will be challenges that will threaten the April elections. Those challenges God has shown me .Many of these challenges are changeable and many are unchangeable. So I'm praying. It will be too early for me to begin to outline the challenges when I'm asking God to change many of them which I'm seeing. In the election there will be many challenges. I'm praying that April will be real so as to promote democracy in Nigeria.
People will like to know the challenges; can you tell us some of them?
Let me tell you the reason why I have been very careful. Before Nigeria was fifty last October, I had started calling on people to pray since July 1 that I was seeing fire and booming sounds. I related it on television and it was shown. I said I saw some people being arrested. I kept saying it, even when October 1 was two days away I repeated i. Nothing was done. Nobody came to ask me about what I said I saw. Again, I said I foresaw extension of election dates. In July I kept saying it but nobody asked me what I was saying. Eventually the date of the election was extended. When the issue of the late president Yar' adua came up, I said "I'm seeing a coffin, a wooden frame, they put someone in it and it will cause the flag of Nigeria to be brought down." I said the person to be affected is a leader. And nobody asked me what I meant. I can begin to tell you many others that were recorded and said publicly to the whole world. So if I now also come and begin to tell you the challenges that will threaten the April elections, of what effect will it be. You know what it is if you say something and no one is taking any notice of it. The prophesy was in most newspapers. But one thing which I will still repeat anywhere anyday is that I pray that the April election will be real. We should also pray against what will make the situation be like what is happening in Ivory Coast today, where there is imposition of leadership which is gradually degenerating into regional conflict. We should pray that whoever will be declared winner should be with a large margin.
President Jonathan once likened his coming to the throne to what happened between David and Saul ,that he was not expecting he would get there and now he is there. In the light of that, as a religious leader in Nigeria, do you approve of his contesting the elections. Do you think he his God's appointed president for the country come 2011?
When you look at Nigeria as a whole you will discover there is no love in this country. Where there is no love it is very very difficult have God's manifestation. Consider what happened in Nazareth in Jerusalem when Jesus went there, he thought he could do many miracles as he did in other places but he found himself doing few because there was no love. Back to what you are saying concerning the words of the president, if he said it is God's doing, are you doubting the power of God.
From all you have said, can you tell Nigerians that this country is set to go as far as 2020 as one country?
You people are forcing me to say what I don't want to say, Now write it down and quote me "let us pray for April to be real." That is all. Because I foresee that going to court to contend results will interest people any longer. People will not show interest in it again. Let us pray against it. It is the court that will be able to sort things out but people at that time will not be interested in going to court. Let us pray that April will be real to avoid a situation where people will not agree or give any regard to court actions, thereby creating a clash of region against region.
How do you view the action of President Jonathan kneeling to be prayed for at the Holy Ghost service that held last December? Was he trying to be partisan by his visit?
One thing you must note is that that one stands does not mean his or her body is standing. So, the position we are when we pray for people does not mean anything. What matters is the divine nature. That should not be a source of disagreement. Sometimes you may be on your knees and in the spirit, you are proud. So the one inside is what matters. Whether one kneels down to pray or not is not as important as the spiritual state of one's mind. When I say in the name of Jesus, it is not Mr. T.B. Joshua saying it but prophet T.B. Joshua. So we have two natures in the human body –human and divine. It is our divine nature that prays not our human. It is just like the case of closing your eyes when you pray; whether you close your eyes or not, we regard it as a traditional way of prayer.
Bowing down of head for prayer is also something traditional, not necessarily spiritual. The same thing with clapping of hands for Jesus. Physically you may not be clapping, but you may be doing so in the spirit. So, whatever position you decide to take when you pray is okay by me as long as you are in spirit with me.The fact that you stand or sit when praying does not make you inferior or superior, the position does not matter. It is the state of our mind that matters.
Your church has been involved in various charity programmes, while many see it as what the church should be doing for the society some others still say it is a strategy to draw more people to your church. What would you say to this?
Let me put it this way: Seventy percent of foreigners who arrive at the Muritala International Airport in Lagos are visitors to our church. If you move round the church now you will see people from different countries. We have various ministers from different countries presently here in the compound. By giving aid materials to the people of Haiti as we did during the natural disaster that befell them the last time, are you now saying we went to Haiti to ask them to be members of the church. This's not possible. Again, because of what we are doing for the dwarfs, can we force them to come to church to come and be members? For the dwarfs in Nigeria, almost two hundred of them, we run a non-governmental organisation. We rent houses, give them accommodation and let them marry and have children. Same for the physically challenged. I want to say the moment you begin to feel what your neighbour feels, or feel the hurt of others, you will begin to succeed in life. So this is life of Christ. The wound of one is the wound of all. The Trouble of one is the trouble of all. When you look at the various political parties, you will find different religions and they all work together. When they get to their various places of worship, they begin to condemn themselves. The same thing happens in your various work places.
Can you tell us more on the recent attack on you by one of your members?
Well, the gun is still in the police station. We have recovered three guns. The story is in the newspapers. A brother came with a gun tucked inside his pants, he also had about three knives and acid. Well, we thank God. What will I say now? Even if they didn't bring all these to the church, some people will still be out there saying 'let us go and attack him.' They have seen those who brought it and how they were arrested. They will now know that this man is very accessible but untouchable. So, I think I want to give the glory to God; that when I'm weak, then I am strong. God has been manifesting himself in my weakness. Like the Bible says; no one is perfect. All that is happening around me is beyond me, I don't know how they happen. I'm just a human being just like you. I cannot stand to say that this is how it happened.