IBB congratulates Jonathan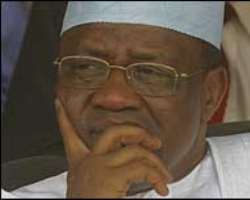 General Ibrahim Babangida, a frontline supporter of Atiku Abubakar's presidential bid, has congratulated President Goodluck Jonathan on winning the Peoples Democratic Party, PDP presidential ticket.
IBB as he is fondly called in his signed statement obtained by pointblanknews.com also congratulated Atiku Abubakar whom he said put up a gallant fight at the convention and Mrs Sarah Jubril.
According to the statement:
"I, General Ibrahim Badamasi Babangida, GCFR, wish to congratulate President Goodluck Ebele Jonathan, GCFR for his landslide victory at yesterday's presidential primaries of our great party, the Peoples Democratic Party (PDP), held at the Eagle Square, Abuja.
"His victory at the primaries is not only personal, but to all members of our great party, to lovers of peace, unity and progress; and to all those who believe in democracy and Nigeria. I therefore urge him to be magnanimous in victory and carry along with him those who lost at yesterday's event. This is the only way we can bury the intra-party differences and bitterness that preceded the primaries.
 
"Special congratulations to former Vice President, Alhaji Atiku Abubakar GCON, on putting up a gallant fight and braving all the odds to make an impressive showing at the primaries. History will always give him a place of pride for his tireless efforts to enthrone democracy in Nigeria.
"My admiration also goes to the woman of substance and courage who never gives up – Mrs Sarah Jibril- who has since 1993 sought at every opportunity to offer her services as president of this country. Even though she has not succeeded, history will one day say this is the woman who saw tomorrow when eventually Nigeria elects a woman president."