SOALEZE: Not a kid stuff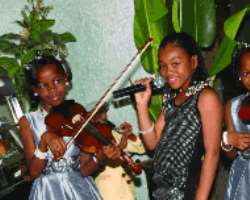 Soaleze on stage
She is a child prodigy. At the age of nine, she's a singing and dancing sensation. Recently at Nanet Celebrities Arena in Abuja, young and pretty Soaleze made the audience literally eat from her hands. It was the public presentation of her debut singles, The 5th Horseman and Ballerina. During the occasion, the talented kid brought the big band excitement back into the music scene as she attracted the cream de la cream of the fun loving Abuja society.
With her pulsating music and delightful stagecraft, Soaleze thrilled the crowd on her feet for hours. And this earned her a slot on both NTA and AIT primetime network news, aired on their terrestrial and satellite channels.
Soaleze's song arrangement and high quality delivery of her music in no time will guarantee her a deserved spot at the top of the charts. This is certainly not a kid stuff!
Packaged in a quality jewel box, the singles have been phenomenally successful in the first week of release. Another batch of 100, 000 copies have now been ordered from Infoway U.K where the CDs were replicated.
On Christmas day, Soaleze had started big with her first public performance at the Millennium Park, Abuja where she thrilled hundreds of families at a party jointly hosted by the Minister for Petroleum, Dizeani Allison-Madueke and Minister for Finance, Olusegun Aganga.
Commenting on Soaleze's prodigious display, foremost artiste manager and producer of Nigeria's first full length docu-musical film, Uduak, Sir Dili Biosah insists that she is an exceptional act built for international exploits.
'I've had the delightful experience managing exceptional acts like Sir Victor Uwaifo, Christy Essien Igbokwe, and Onyeka Onwenu, including the latter's joint project with King Sunny Ade. I have also managed national and international events. As a director at Soultrain, I had managed the 28-man Goldtrain Orkestra, Nigeria's first truly hi-tech big band. That's the reason you must trust my judgment that Soaleze is destined to rock the music world. She also has a head start; in me she has an exceptional manager from the start.'