OH DAD!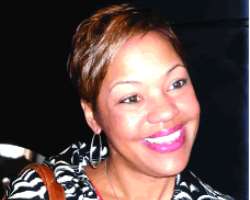 For Stacie Turner, African-American star of wave-making Hollywood drama series, The Real Housewives of DC, father is worth more than gold. For several years, she has lived her life as an adopted child and never knew that her real father, a Nigerian was alive and kicking.
But then she never gave up hope as something continued to tell her that if only she could try, one day she will meet face to face with her long lost dad, Nze Augustine Onyema, an indigene of Mbaitoli, Imo State.
And as fate would have it, Arik Air, West Africa's largest commercial carrier made it possible for the American TV star to reunite with her Nigerian father. Stacie and her husband, Jason along with a large entourage, touched down at the Murtala Muhammed International Airport, Lagos on Tuesday afternoon aboard Arik Air's nonstop flight from New York.
42-year-old Stacie was born into a foster home in Washington DC. She was a fortunate child having got loving parents to adopt her at an early age. They had treated her like their own biological child and provided her with everything including a nurturing childhood, a stable home life and exposure to people, and places. Young Stacie also had experiences which inculcated in her positive self image, and this had ensured her drive to achieve success.
It was not until recently that Stacie, the only African-American actress on the run-away reality TV series in Washington DC discovered that her mother is American and her father is Nigerian. In fact, it was only after discovering her medical history that she embarked on a journey to find her biological father in Nigeria.
However, the mother of two, Jacob and Catherine beamed with victorious smiles as she landed in Nigeria, her native country on Tuesday. The star actress, who came with her children, including an official of the Nigerian Embassy in USA, could not contain her excitement and appreciation to Arik Air for making the historic trip possible. And she has this to say of the airline: 'Arik Air is my new favourite airline! I've never seen a cabin like that; it's wonderful,' adding on her twitter page thus, 'Arik Airlines is the bomb! Full lounge on the plane, Nigerian food, nice staff – first class all the way baby!'
As she departed JFK Airport heading for Nigeria, Stacie continued to engage her friends and fans all over the world on her twitter page. She enthused thus: 'Enroute JFK to head to Nigeria to meet my family! I have dreamed of this day for so long and it's finally here!'
And immediately she landed in Owerri, Stacie informed: 'Nobody's kidnapping the kid! (We are) safe and secure. Yes! Just landed in Owerri. We are guests of the Governor—doing a 2-day medical mission—then meeting my family.'
Speaking about her impending meeting with her father, Stacie said, 'I am overwhelmed and thrilled to find a welcoming family in Nigeria – my birthfather, 10 siblings and a huge extended family – who I plan to meet now. I'm really excited about the prospect of meeting my birth father for the first time and it's going to be an exciting time when I get to Mbaitoli, near Owerri where he resides.'
At about 4pm on Thursday, Blockbuster learnt that Stacie finally reunited with her long lost biological father. And with tears of joys streaming down her beautiful face, the famous American actress hugged and hugged Nze Onyema while the sun stood still.
In 2009, Stacie increased her profile and platform. She decided to join the cast of the Bravo Network television franchise, The Real Housewives, a wave-making drama based on the lives of high profile women in Washington, DC. Unlike most actors who find reality TV a risky deal, Stacie perceived it as a unique marketing platform to broaden awareness of her business and philanthropic efforts. But it turned out successful as the first season of the show garnered the second highest ratings in the history of the Bravo franchise.
While Stacie has enjoyed substantial success in business, she has always maintained a passionate civic interest in the lives of children in her community. Her first gift, 'the foundation of family', as she calls it, kindled a deep desire to positively impact the lives of adolescent foster children, and help them forge a path towards achievement despite obstacles.
With the belief that: 'the only difference between an ordinary life and an extra-ordinary life is the 'extra', Stacie founded Extra-Ordinary Life to provide the 'extra'. Extra-Ordinary Life (XOL) is a charitable programme (within the Pursuit of Dreams Foundation) that nurtures and enriches the lives of teen girls living in the DC foster care system. The organisation seeks to: drive vision in youth, through exposure to people, places and opportunities beyond their current access; and to inspire them to dream big and aspire to do great things in life.
This past July, XOL took eight foster teen girls to South Africa during the FIFA 2010 World Cup — a trip captured on film by BET Networks that chronicled the amazing journey of discovery. The documentary, entitled, Extra-Ordinary Life: Journey to South Africa has aired in 54 countries in Africa, Europe, and the Middle East. It is scheduled to air in the United States early this year.
Meanwhile, Arik Air will be flying Stacie around the country. According to the airline's Senior Vice President Commercial, Mr. Kevin Steele, this is a way of discovering her fatherland. 'We are excited that Stacie has chosen to fly Arik Air for this important mission. We will be flying her around Nigeria on this first visit to her fatherland and I'm sure she'll love it,' he says.