Wole Soyinka: African Shakespeare?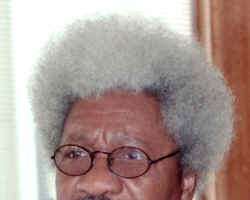 Maybe it is no coincidence at all that Wole Soyinka's initials are W.S., as in William Shakespeare. Of course, he was born Akinwande Oluwole Soyinka, but W.S. tells his story better than any of his most eloquent writings. For, it is only in Soyinka that Africa could ever think of a Shakespeare. From a continent full of sores and aches (he had written The open sore of a continent in 1996), it is difficult to imagine a bard from Abeokuta surviving the Trails of Brother Jero and the subsequent Metamorphosis, to write with the same (well, not quite the same) finesse and literary scholarship as the dramatist from Stratford Upon Avon. Yet, when you imagine the volume of creative energy that went into Soyinka's description of W.H. Auden's face as "a compressed lump of volcanic lava in controlled convulsion," you are encouraged to agree with the principal of Cumberland Lodge, Alistair Niven, that Soyinka is an African giant.
But I would confess that Soyinka's Shakespearean other half (at least in the African sense) had been lost on me until Professor Kwame Okoampah-Ahoofe referred to it in an article titled 'Soyinka wows his detractors once more', a feature which appeared on ghanaweb.com on January 13, 2011. An African Shakespeare is not the thing any African would be thinking about when a former History professor in Ivory Coast clearly loses in democratic elections and simply refuses to hand over power to an internationally recognised winner. You wouldn't immediately think of an African Shakespeare when pseudo-intellectuals on the African continent rape their countries of millions of dollars and store them in foreign banks. Why even bother to dream of our version of the English bard when we have really managed not to build a system of social protection for a non-existent middle class? If a Shakespeare emerges from within the open sore of such a place, he gets a Nobel Prize for literature but he is seen as the only Strong Breed (one of Soyinka's plays) we managed to save Before the Blackout (another of his plays).
Perhaps, that is what gives people like Nick Griffin of the British National Party and Rev James David Manning, an American preacher, the 'temerity' to insult the intelligence of the black man, all black men. Griffin asks whether we have ever had a black equivalent of Shakespeare or Mozart. And he dignifies his own question with an answer: They can't. Rev Manning, a black preacher, goes unthinkable extents to almost call the black man a person with no brain at all. He hates Barack Obama, and thinks Michele is ugly. He also thinks the worst thing that ever happened to South Africa is not apartheid; it is when Mandela became president. According to him, crime, disease and poverty took their toll on the country when a black man became president. He is emphatic: "Black people don't know how to build no nation." Black people have a problem with the mind. A black man can earn a PhD in anything but he doesn't understand the world, he says. (I will be writing an analysis of the Manning sermons next week).
That Soyinka is a scholar from this part of the world, in Rev Manning's thinking, should make his Nobel Laureate only good enough for Alfred Nobel. Soyinka has been awarded honorary doctorates from University of Leeds and Princeton, and recognised by many other institutions of repute, including Harvard. After graduating with a first class in English Literature from University of Leeds in 1957, and proceeding to work as a play reader at the Royal Court Theatre in London, the African Shakespeare has been writing extensively, never resting his pen, even in prison (while in prison, he wrote Poems from Prison, later titled A big Airplane crashed into the Earth). The biggest recognition came in 1986 with the Nobel Prize in Literature. He hasn't stopped writing and advocating for a better Africa, even at a very old age, contributing to global scholarship and intellectual discourse. Do these qualify Soyinka as the African Shakespeare?
Well, the bard at Stratford upon Avon who married Anne Hathaway and wrote Othello, Hamlet, Richard III and King Lear among others has no literary equal. I visited his house in Stratford and saw his bed, which was suspended by ropes. The expression 'sleep tight' originated from that era: it meant tighten the ropes before you go to bed. Last week, it was reported that one of his lost plays has been discovered. Even now, Kill Shakespeare, a funny and a 'what if" retelling of the Shakespearean stories is showing in theatres. Co-creator of the project, Connor McCreery, testifies to the limitless ways to make Shakespeare more interesting for a modern audience while still maintaining his style. Connor, a personal friend (from a distant), spent some six months in Ghana with the Statesman newspaper under the editorial management of Gabby Okyere Darko. It is sometimes difficult to believe that one person sat down and penned all those works in 52 years. The depth of character development is as unfathomable as the breadth of rare scholarship that underlies the treatment of subject matter. Pure Gold in triplicate, a real genius in whom creativity found its most creative manifestation-Shakespeare, that is.
I have never visited Nigeria. And that has nothing to do with what some readers have termed my hate affair with the Nigerian character. Indeed, I am one of many Ghanaians to put it out that we may be better than Nigerians in any other department, but not in the arts and many things literary. Their newspapers are a lot better than ours. Their plays are richer in content. Achebe stands out everywhere. Okri is creative. Femi Osofisan is good. Rotimi is not to blame. Chimamanda, oh Chimamanda Adichie, (I love her, for real) 33 years old, won the Orange Broadband prize for fiction in 2007. Apart from Soyinka's Nobel, Nigerian authors have won some important world prizes, including some Man Booker awards and an Orange prize, aside the prestigious Caine prizes. In fact, the CNN has a list of top ten young Nigerian writers, all of whom are award winners. Ghanaians have a very short list of good writers. Well the beautyful ones are not yet born. In the end, we have Awoonor, the rest is all 'Fragments'. Wole Soyinka has a very rich mind and enormous creative power. He makes sense, often a lot of sense. I don't know whether he is a better novelist than a dramatist or a better essayist than a poet. Everybody has read The Lion and the Jewel? What do you think? Or for those who do not like the play genre, taste the consistency of style in You Must set Forth at Dawn, a memoir.
Frankly, our assignment is not to compare Shakespeare with Soyinka. We really do not need two Shakespeares: There is only one. Soyinka himself, when asked why none of his plays have been performed in the English theatres since 1973 when his adaptation of The Bacchae of Euripides was staged, he was reportedly relaxed about it. Brilliant he is, but most literary reviewers contend that "outside specialist circles", Soyinka needs discovering. Thing is, once you discover him, you have discovered a genius who is jawbreakingly awesome –beyond the open sore of a continent where Gbabgo is president.
Kwesi Tawiah-Benjamin writes from Ottawa, Canada. He is a journalist.
Disclaimer:

"The views/contents expressed in this article are the sole responsibility of the author(s) and do not necessarily reflect those of The Nigerian Voice. The Nigerian Voice will not be responsible or liable for any inaccurate or incorrect statements contained in this article."