…SPRINT QUEEN, ONYALI, BLASTS ATHLETES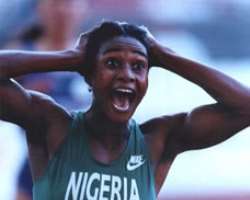 •Onyali
Her name remains a huge influence to many would be athletes especially those in the sprints, but not many of them are keen on burning the midnight candle like she did before she became the cynosure of all eyes both on the African and world stages.
Mary Onyali-Omagbemi, since quitting the tracks has remained in the public eyes contributing her quota in the development of younger athletes as well as promoting her sports wear brand. Today, despite her promotional activities, she is saddened by the fact that current athletes are not taking their career in the sport as serious as they should.
She told Friday Sports Ride in a telephone chat that she is pained by the way athletes carry on with their sport. Particularly painful for her is that the athletes' quest for money has over ridden their desire to become champions in their chosen fields.
'It's a pity our athletes today have got their priorities backwards. Instead of them to concentrate on school and go for money later, they prefer to go it the other way round and this to a very large extent has affected their performance in no small way. Most of our athletes are more interested in going to Europe in search of money when they should actually tarry awhile and go to school.'
She noted that from the way most of them are going they would pay dearly because they would call it a day sooner than they expect and they would have nothing to fail back on.
'As an athlete in my active running days, I was in school and still competed yet it was not at the detriment of my education. I had opportunities to make money in the circuits but I had a choice about it and decided to face my studies. Now, with my career in athletics over, I have something to fall back on as back up. My fear for most of the athletes we parade today is that most of them are not keen on going to school. They are just interested in travelling to different meets to make money which from experience would not be in their favour at the end of the day.'
Looking ahead to the London 2012 Olympics, Onyali-Omagbemi insists that gold, silver or bronze is not won in one day but that it requires long term planning. She stated that she and her friends had began their own preparations for the 2012 Games since the end of the Beijing Olympics.
'We've discovered a number of athletes who are currently making landmarks in their various events in athletics and I believe that between now and the commencement of the Games, Nigeria would have been able to raise a formidable squad that would make us all proud. With proper planning and support from the right quarters.'
To achieve the desired aim of performance from the athletes, Onyali-Omagbemi who consecutively had Olympic appearances from 1988 to 2004, which made her the first, Nigerian to compete at five Olympics stated that there's need for standard facilities to be made available for athletes to train as well as have competitions on a regular basis to sharpen their skills. 'Aside the provision of facilities, there's the need for us to take advantage of scholarship in American universities for our athletes so as to help build their careers and academics. I benefited from it and think others deserve to. In addition to that, there's also need for the athletes welfare to be given top priority.'
Onyali-Omagbami performed especially well in the All-Africa Games, winning a total of 7 individual medals in the short sprints. She won 100 metres in 1991, 1995 and 2003 and took a bronze medal in 1987. Gold medals in 200 metres were taken in 1987, 1995 and 2003. Furthermore, the Nigerian 4x100m relay team won all races between 1987 and 2003, at the African Games.
On the campaign for President Goodluck Jonathan by former internationals, Onyali said they were just adding voice to their opinion that his government should be re-elected. 'We're also Nigerians and since the musicians and actors have done their bit to show support for the president, we felt that as sports men and women who are also part of the entertainment industry, we should garner support for our president who has done so well for Nigerian sports.'