…DRAMA IN ABUJA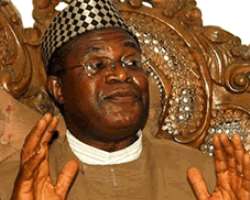 •Nwodo
It was high drama at the Eagles Square, Abuja, venue of the National Democratic Party (PDP) primaries over controversy that trailed the order of an Enugu State High Court, restraining the National Chairman of the party, Dr. Okwesilieze Nwodo, from parading himself as chairman.
Nwodo was on Wednesday ordered by the court to stop parading himself as national chairman of the PDP.
However, Nwodo who appeared at the venue of the convention in Abuja and met his deputy national chairman already reading his speech as acting national chairman, took over and delivered his prepared speech to delegates that gathered at the convention.
After the speech, Nwodo, the National Secretary of the Party, Kawu Baraje and the National Internal Auditor presented their reports, which were adopted by the delegates through voice vote.
The Chairman of the Electoral Panel of the PDP, Prof. Tunde Adeniran equally presented his report as well as explained the pattern the election would take.
After the presentation of the speeches and reports, the first presidential aspirant, Sarah Jibril was called to address the delegates and was followed by former vice president, Atiku Abubakar.
However, immediately after Atiku's address, the Deputy National Chairman of the party, Dr. Mohammed. Haliru Bello mounted the podium and announced that following the court order restraining Nwodo, as the national chairman, he has been asked to take over the affairs of the party at the special convention.
Bello then went ahead and read his speech just as he announced the adoption of all events that had taken place before then. Accordingly, the National Legal Adviser, Mr. Olusola Oke, moved for the adoption of Bello as acting national chairman of the PDP. Thereafter, President Goodluck Jonathan was invited to address the delegates.