In A Landslide, Goodluck Ebele Jonathan Wins PDP Presidential Primaries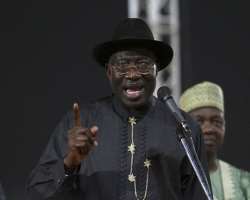 PHOTO: PRESIDENT GOODLUCK EBELE AZIKIWE JONATHAN WITH VICE PRESIDENT NAMADI SAMBO AT THE PDP CONVENTION. PHOTO CREDIT: AP.
SAN FRANCISCO, Jan 13, (THEWILL) – The peoples Democratic Party (PDP) has elected its candidate for the April 2011 Presidential election.
Just as predicted in our earlier projection, incumbent President Goodluck Ebele Azikiwe Jonathan, a southerner from the oil rich Niger Delta State of Bayelsa polled a total of 2736 votes to defeat his closest rival and Consensus Candidate of some influential northern politicians, Alhaji Atiku Abubakar, who polled a dismal 741 votes.
A third aspirant and returnee aspirant, Mrs. Sarah Jibril polled only a single vote, which she got from a Kwara State delegate.
A breakdown of the votes cast showed that Jonathan won 32 states and the FCT. Atiku managed to win only three (3) states.
There are 36 states in Nigeria plus the Federal Capital Territory (FCT).
Atiku had hinged his campaign on the zoning arrangement of the PDP insisting that the north still had a four-term (2011-15) to occupy the Presidency.
From the way the over 5000 delegates voted, it is clear that the former Vice President and his cohorts in the Northern Political Leaders Forum (NPLF) lost the argument in the most humiliating manner.
How delegates voted.
ABIA: Goodluck Jonathan polled 80. Atiku Abubakar polled 1 vote.
ADAMAWA (ATIKU'S HOME STATE): Jonathan 76 votes. Atiku 31.
AKWA IBOM: Jonathan 141 votes. Atiku 0 votes.
ANAMBRA: Jonathan 47 votes. Atiku 8 votes.
BAYELSA: Jonathan 67 votes. Atiku 0 votes.
BAUCHI: Jonathan 46 votes. Atiku 44 votes.
RIVERS: Jonathan 128 votes. Atiku 2 votes.
SOKOTO: Jonathan 32 votes. Atiku 84.
TARABA: Jonathan 62 votes. Atiku 16 votes.
YOBE: Jonathan 29 votes. Atiku 20 votes.
ZAMFAFA: Jonathan 7 votes. Atiku 70.
FCT: Jonathan 24 votes. Atiku 3 votes.
JIGAWA: Jonathan 100 votes. Atiku 17 votes.
LAGOS: Jonathan 52 votes. Atiku 3 votes.
NASARAWA: Jonathan 53 votes. Atiku 8 votes.
OSUN: Jonathan 99 votes. Atiku 1 vote.
GOMBE: Jonathan 55 votes. Atiku 18.
BORNO: Jonathan 33 votes. Atiku 26.
IMO: Jonathan 125 votes. Atiku 3 votes.
KANO: Jonathan 21 votes. Atiku 99 votes.
CROSS RIVER: Jonathan 105 votes. Atiku 0.
EDO: Jonathan 60 votes. Atiku 0.
EBONYI: Jonathan 82 votes. Atiku 2 votes.
KWARA: Jonathan 61 votes. Atiku 26 votes. Sarah Jibril 1 vote.
ENUGU: Jonathan 89 votes. Atiku 9 votes.
DELTA: Jonathan 114 votes. Atiku 7 votes.
KATSINA: Jonathan 147 votes. Atiku 7
KOGI: Jonathan 84 votes. Atiku 24 votes.
OYO: Jonathan 107 votes. Atiku 10 votes.
OGUN: Jonathan 80 votes. Atiku 3.
KEBBI: Jonathan 33 votes. Atiku 44.
NIGER: Jonathan 16 votes. Atiku 94 votes.
BENUE: Jonathan 72 votes. Atiku 15 votes.