AMUWO-ODOFIN NEEDS FACE AND A VOICE, EJIKEME, PDP HOUSE OF ASSEMBLY CANDIDATE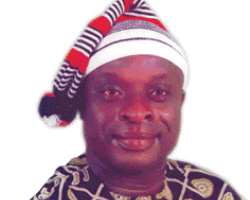 •Ejikeme
Looking as the politics of Lagos State, how do you see the chances of the PDP in the forthcoming elections?
PDP has chances like any other party in Lagos State. In fact, the PDP has a better chance because our people say that when you marry two husbands, you are in a better position to decide the best one. Yes, we have had government in power in Lagos State for 12 years and we are very much aware that the only permanent thing in life is change. And unless you have tried the other side of the coin, you wouldn't know that it looks like.
Therefore, for the PDP. At this time, it is our season. And we are not only going to capture Lagos, but also win it by popular votes. In your constituency, Amuwo-Odofin, how do you look at the ethnic units, vis-Ã -vis your projection for votes. The most important thing in Lagos is that it is a cosmopolitan state. Coming down to Amuwo-Odofin, the local government itself is a mini-Nigeria where you have ethnic delineation of different tribes.
But the most important factor is in this dispensation.
What we are thinking of is not the tribe, colour or whatever, but what can you do?
What is your capacity? Do they know you around there? Are you acceptable? What is your contribution to your environment? In my constituency, Amuwo-Odofin Constituency I, by the grace of God, they know I have paid my dues. I have offered my best of service at various occasions. It is not just something that happened overnight. I have been consistent. I have been tried and tested. And I have offered myself once again to serve. And it wants to say that as much as this issue of indigene or non-indigene comes up, my constituency, ward is made up of non-indigenes. Somebody is from Anambra State, lived in Lagos State for 20 years and you tag him a non-indigene?
Somebody from Ogun State, Kwara, Ondo is a non-indigene?
We want to say that the politics of this era is no longer the issue of the tribe or the colour. We are going to talk about issues like: What can you do for your constituency? And I know that in Awumo-Odofin Constituency I, I am sure that issues are going to take the front burner. And I am sure that because they have tested the other side, there must be a change for standardization. They are not just changing for changing sake, we are changing because we want to restore a standard that people will look at. We want to have a voice in Awumo-Odofin Constituency I. we want to say that by the grace of God, he has done it already for us.
Talking about paying of dues, you said you've paid your dues.
What is your political trackrecord?
I was a councillorship candidate for the PDP in 2003 and 2007. It is not for the issue of boycott. And we know the terrain very well. We have the statistics of the election and we know that if not for these issues of boycott, this invincibility that cloaked on a particular party wouldn't be there. But also, we know that, I am saying this without any fear of equivocation. We have fifth columnists that are working against the PDP. But in this dispensation, God will not allow them to have their way. Therefore, we have the statistics of Awumo-Odofin. I am not talking of any other local government. We have the statistics of the previous election and we are very much aware that having been consistent in the politics of Amuwo-Odofin, in the opposition(quote and unquote), this time, I don't know what will stop us from winning the popuplar votes. Because we are not going to capture anywhere, we are not going to take anywhere, we are appealing to the voters to let their votes count in this dispensation.
What are you dreams/vision for your constituency?
First and foremost, Amuwo-Odofin constituency needs a face and a voice. Amuwo-Odofin needs an effective representation because t he literacy level of Amuwo-Odofin Constituency I is very high. You can't just put anybody there. I know somebody was quoted as saying that even if you put a goat there, it would go. But fortunately for us, the Nigerian constitution does not recognize a goat going for elections. Therefore, in this dispensation, I know we are tired of faithless representation. We are tired of people being hoisted on us.
Our votes will count. It is our duty to determine who represents us in Amuwo-Odofin and Auguestine Ejikeme has offered himself to serve as a face and a voice for the people of Amuwo-Odofin Constituency I, Lagos State, by the grace of God, come April 16, 2011.
Looking as the Lagos State House of Assembly, there are two things that are very striking. One, the homogeneity and then there is non-South West in the House.
How do you intend to break this jinx?
Don't you not think it is an indictment on those who claim to be progressives?
This question is very pertinent in the sense that people profess, say all manners of things that they are progressives. I began to wonder what manner of state progressive they are when there no change in your environment? It is an indictment that if you go to the Lagos State House of Assembly, you have only one ethnic group. I don't have any problem with that. Based on what you have asked me, will the ethnic delineation in Lagos be a factor? Does it not beat our imagination that the homogeneity continues.
Does it not beat our imagination that the same way a Nigerian had gone to the UK to win election… In fact, the President of America today is from Kenya. And we still profess that we are progressives. And we are saying that in the year of the Lord 2011, that only a particular homogenous House of Assembly is in Lagos State. It is an indictment. And it is about time that this will change. Whether you like it or not, Lagos is mini-Nigeria. I remember in 1863, when the colony of Lagos was carved out, it was independent of the South and the North. It was in 1914 that during the protectorate of Lugard that it was ceded to the South. And now, somebody is coming from Oyo, which is a state, or Ondo, Anambra, which is also a state, because of language and whatever, you now call him a non-indigene.
What if those from Oyo, Ogun Or Ondo state?
They are non-indigenes also because all of us have come to live in Lagos. They are correct min what they are saying but I am also right in what I am doing, correct in the sense that I don't speak the Yoruba language but the constitution says that wherever you have lived for three years, you are qualified to contest for elective offices. I think it is high time we do away with state of origin because whether we like it or not, when these things happen in similar climes, we clap and gallivant to these places to show solidarity. Yet, we cannot practice the same thing. We end up only preaching. I am believing God that in the April election, a lot of perceptions are going to be changed. And I am believing him also that those who think Lagos is their patrimony, that Lagos is like a box they can lock and unlock anytime, that they have played hard enough. A real God will take care of Lagos and there will be a change for good.
And your words to members of your constituency?
I say to my beautiful people of Amuwo-Odofin Constituency I, we need a face, we need a voice. We must not only been seen, we must not only be heard , it is time we make our votes count by casting our votes massively for … Augustine Ejikeme PDP. God bless everyone of you.