ACN Offers Losing PDP Presidential Aspirants, Others Platform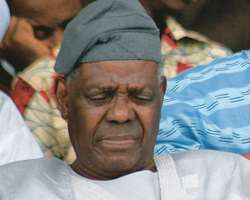 PHOTO: ACN NATIONAL CHAIRMAN BISI AKANDE.
San Francisco, Jan 11, (THEWILL) – The Action Congress of Nigeria (ACN) has said Presidential aspirants and indeed aspirants that lost in this week's Peoples Democratic Party (PDP) primaries could switch to the ACN for a chance to challenge President Goodluck Jonathan and other PDP candidates in the April general elections.
National Chairman, Chief Bisi Akande today said if by chance any losing member of the PDP switches to the ACN before its National Congress, the ACN 'will accept such people'.
"If by any chance any PDP (member) who decamped to ACN is fit or is adjudged fit by the national committee, definitely we will accept such people," Bisi Akande told Reuters.
The ACN has slated its National Congress for Friday, January 14, 2010, a day after the PDP would have elected its Presidential flag bearer.
The PDP Presidential primary is expected to be a two-way race between incumbent President and frontrunner Goodluck Ebele Jonathan and former Vice President Atiku Abubakar. Coincidentally, Atiku ran for the Presidency in 2007 on the platform of the AC, which later rebranded to become the ACN.
The PDP remains divided over its controversial zoning arrangement that stipulates that power should rotate between the predominantly Muslim north and the mainly Christian south. A loss for Atiku Abubakar, a northerner, who was chosen by a northern political group (NPLF) as its consensus candidate could split the party even further.
A section of the party has consistently pushed that the north has not completed its tenure of eight years.
Throwing his weight behind Bisi Akande, Presidential aspirant of the ACN and former EFCC Chairman, Mr. Nuhu Ribadu told Reuters that he would welcome competition from anyone who could help the country defeat the PDP, which has been the dominant political party in the oil rich nation. The PDP has won all Presidential elections since 1999, when the military pulled out of government.
Ribadu said he would have no problem with the defeated PDP candidate contesting for his party's ticket, or with the ACN linking up with any other opposition parties, provided they supported a democratically chosen nominee.
"As much as I believe I could be the person who could bring change in my country...I'm not a selfish person, I'm certainly a person who will play as a team to bring change in our country, I have no difficulties with that," Ribadu told the news agency.