40hrs to PDP Presidential Primaries: Governors could be x-factor...Atiku fights for his political life...As Abuja brace for a boom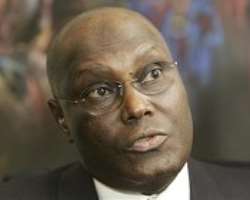 Abubakar Atiku
W ith barely 48 hours to be much awaited presidential primaries of the Peoples Democratic Party(PDP), in Abuja, the tempo of top shelf horse trading, media blitz, has peaked, with delegates heading for the Eagle Square with very long daggers in their cloaks.
Traffic in the town has doubled as most of the hotels in town and suburbs have been fully booked till Friday. The ladies of easy virtues, traders, taxi cab and keke NAPEP operators are also bracing for a boom in business.
President Goodluck Jonathan and Ex Vice President Atiku Abubakar, were still guests of the Presidential screening committee, at the time of report.
Pointblanknews.com learnt that even though Atiku had put up a brave fight, including five star political wizardry, very sophisticated media campaign, the factors that could swing the contest are not very much in his favor.
According to sources close to both camps, the role expected to be played by the 28 PDP Governors , and the state chairmen and scribes are very vital.
Few weeks ago there was a consensus among the Governors to back Jonathan for the first leg of 2011 and 2015. The calculation by most of the Governors is that if they back him now, the party structure would back their own ambition come this year and 2015. Also most of those who are angling to return would not want to step on the toes of National chairman, Okwesileze Nwodo, a top shelf President's man.
There is also the issue of incumbency and the baggage of alleged money laundering dogging the Atiku brand.
 
Pointblanknews.com also gathered that the failure of Jonathan to sign into law the amendments to the Electoral Act 2010, that would have made members of the National Assembly, National Executive Committee (NEC) members, is a plus for him(Jonathan), because the Governors hated the idea.
According to our sources, most of those perceived to be anti-Jonathan lost at their congresses with the Governors calling the shots at the grassroots. Said a source " the Governors call the shots and they ensured they got what they wanted"
However, considering Atiku's mastery of the game and the unpredictability of delegates, the game still remains open. Said our source " We know Jonathan has some leverage because he is incumbent, he had the nod of the Governors who are for second term and who opposed the amendment to the Electoral Act. The Governors, if they don't back off last minute will give it to Jonathan, and as you know they are in charge of the party machinery in their states"
Pointblanknews.com source however said " But we cannot underrate Atiku and cant trust the Governors because the delegates could be bought, while some of the northern Governors who have already gotten tickets may swing Atiku last minute"