U.S. TASKS ARAB NATIONS ON IRAN'S NUCLEAR ACTIVITIES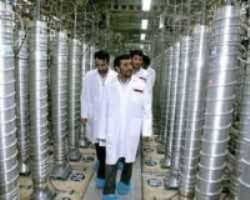 THE United States (U.S.) Secretary of State Hillary Rodham Clinton has said that sanctions have slowed Iran's efforts to develop atomic weapons and accused the country of trying to foment new conflict in the Middle East to distract attention from its nuclear ambitions.
On the first stop of a three-nation tour of the Persian Gulf, Clinton said the Arab nations in particular should act to sharpen enforcement of the sanctions and reject attempts to stoke Middle East tensions.
She also said Arab states had a special role to play in helping to restart Israeli-Palestinian peace talks by promoting a broader Arab-Israeli settlement.
'The most recent analysis is that the sanctions have been working. They have made it much more difficult for Iran to pursue its nuclear ambitions,' she told a pan-Arab television talk show.
'Their programme, from our best estimate, has been slowed down. So we have time, but not a lot of time.'
If Iran succeeds in developing an atomic bomb, it will plunge the Middle East into a disastrous nuclear arms race, she said.
Last week, Israel's newly retired spy chief was reported to have said he thinks Iran won't be able to build a nuclear bomb before 2015, pushing back Israeli intelligence estimates of when Tehran might become a nuclear power.
Meanwhile, investigators in Iran yesterday found the black box from a passenger jet that broke to pieces on impact while trying an emergency landing in a snowstorm in northwestern Iran, killing no fewer than 77 people.
The pilots of the Boeing-727, operated by Iran's national airline and carrying 104 passengers and crew, reported a technical failure to the control tower before trying to make the landing on Sunday night, state-run TV reported.
The IranAir aircraft broke into several pieces, but Mahmoud Mozaffar, head of the rescue department of Iran's Red Crescent Society, said there was no explosion or fire.
Footage on state TV showed the plane's crumpled fuselage lying in a field, torn apart in several places, under whirling snow in the darkness as rescue workers and local farmers searched for survivors in the hours after the crash.
Heavy snow hampered rescue efforts, the semiofficial Fars news agency cited the head of the state emergency center, Gholam Reza Masoumi, as saying.
That report also mentioned fog in the area.